Business License: Do bloggers need to obtain one?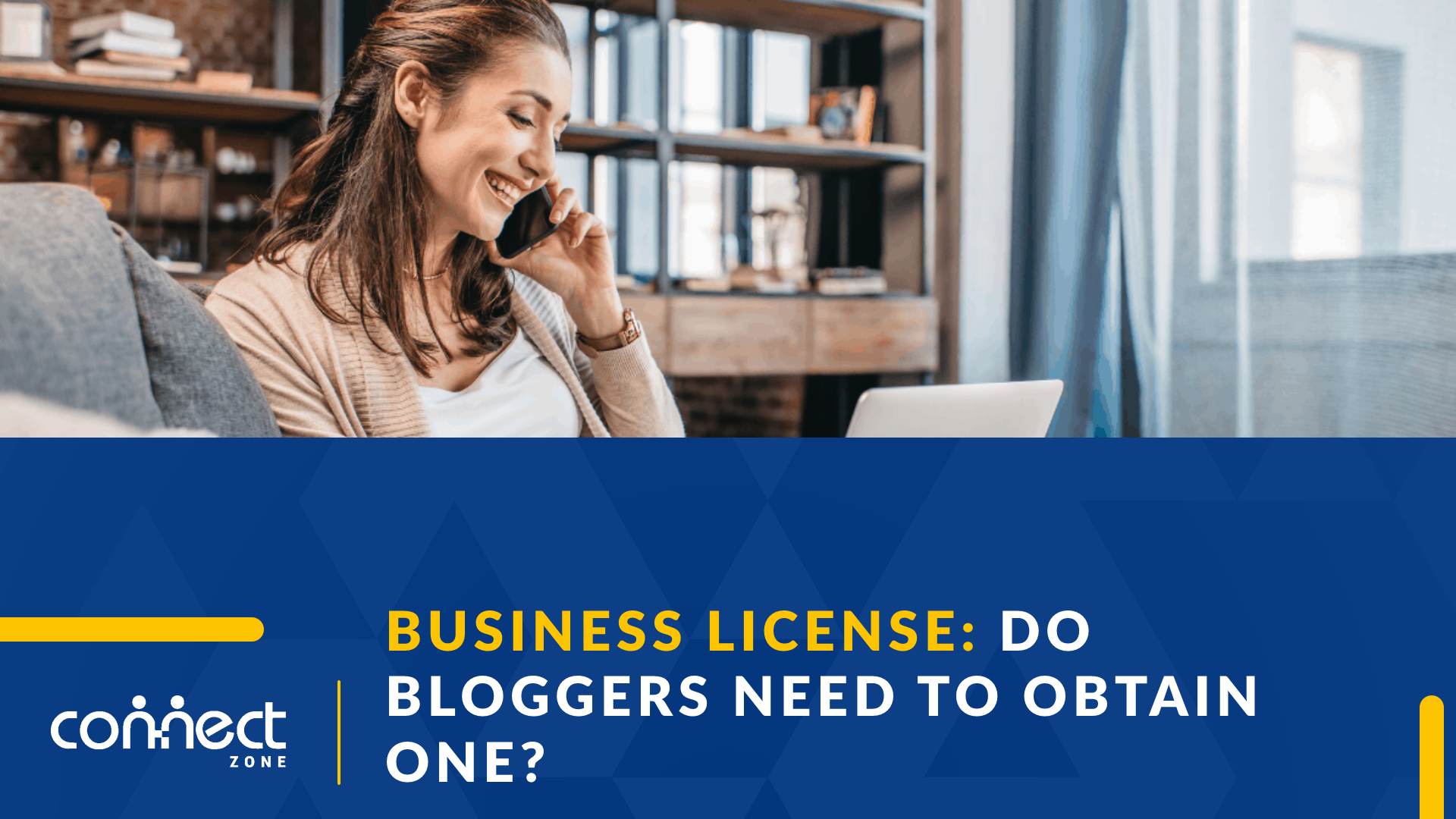 In recent years, the economy of the United Arab Emirates has diversified. Productive and commercial activities can be carried out in different ways, in different types of businesses. Professions such as bloggers, influencers, etc., can find great job growth opportunities in the UAE. However, to do so, it is necessary that you obtain a Business License.
In this article, you will find information about the Online Business License in Dubai, the types of Business Licenses in the UAE, and a few relevant aspects you should consider when blogging in the Emirates. Let us observe:
Aspects of the Business License in Dubai
Different types of Business Licenses
What is a Media License for bloggers or influencers?
What is a blog?
Some activities bloggers perform
How can you become a blogger in the UAE?
How can we help you get a Business License for your blogging business?
1. Aspects of the business license in Dubai
A Business License in Dubai is an official document provided by the Department of Economic Development (DED) of the respective Emirate. All companies in the UAE must have this license to legally operate in the country.
There is a great variety of licenses and economic jurisdictions in this country that encourage entrepreneurs to form companies. The government has taken the time to introduce entrepreneur-friendly policies like reducing business setup fees, long-term residence visas, etc.
Among the economic jurisdictions are Free Zones, Mainland, and Offshore companies. These jurisdictions offer entrepreneurs multiple options when forming a company. Depending on the essence of your company, the type of activity, and the target audience, you must choose a jurisdiction that suits the needs of your business.
1.1 Free Zone Business License
Obtaining a business license in a Free Zone enables you to operate legally. The steps to form a business in this area are the following:
Choose the trade name of your company and receive the approval of the corresponding authorities of the Free Zone.
Then, you must select the productive activity of your company, along with the business license
After, you will need to submit certain documents. For example, passport copy, application form, photograph, etc. After submitting the documents, you must pay the required fee to obtain your business license.
Finally, the UAE authorities will review your application and deliver your license. Once you have it in your hands, you must apply for a residence visa and open a bank account.
1.2 Mainland Business License
Mainland companies are the target for those entrepreneurs interested in expanding their business in the local UAE market. Also, the Mainland offers the possibility to add more branches and hire more staff easily.
The most common company established on the Mainland is the Limited Liability Company and the steps to form one are the following:
Reserve the company's trade name and obtain approval from the Department of Economic Development (DED) of the Emirates.
Then, you must select the activity and the type of company you want to establish.
Submit the necessary documentation. For example, passport copy, application form, and a photograph for the DED.
Finally, pay the fees and wait for approval from the Department of Economic Development to receive your license.
One of the most important incentives in the Mainland for entrepreneurs is to be able to maintain 100% ownership of their company. Which means that you will not need to share a part of your business with a local agent.
1.3 Offshore Business License
The offshore jurisdiction consists of non-resident companies. In this area, companies do not need residence visas and cannot rent or own a physical office space in the UAE. Offshore companies are mostly virtual companies registered with the same address as their registered agents. Also, they are international companies that facilitate international trade and operations remotely.
The companies established in this area will not have a business license, they will have what is known as a Certificate of Incorporation. The Offshore Business in the UAE is formed to promote trade among countries.
2. Different types of Business Licenses
As shown above, acquiring this license is the number one priority for all company owners in the UAE. Choosing the correct business license for your company is of utmost importance since this will define whether you can work or not.
Depending on the nature of your company, you will be able to choose from a wide range of license types and business activities from the Free Zone, Offshore, and Mainland jurisdictions. Some of the licenses that you can find in the UAE are the following:
2.1 Commercial License
This license is for those companies involved in the sale and purchase of goods. The Commercial License allows companies to trade within and outside the UAE.
There are several commercial licenses, each dedicated to a different activity. For example, if your main focus is trading in the UAE local market, you can apply for a general trading license. However, you are interested in exporting and importing, there is also a specific license for it.
Some of the activities you can carry out with this license are the following:
Oil and gas trading
Trading in automobile
Used furniture trading
Safety equipment trading
Gold and precious metal trading
2.2 Professional License
Any company or individual related to the use of intellectual abilities to offer a service must acquire a Professional License. Legal services, consulting, and audits, are some of the services covered by this license. Also, artisans, IT service providers, and craftsmen can apply for this license.
Other activities covered by this license are the following:
Tax consultancy
Environmental consultancy
Marketing consultancy
Information technology consultancies
2.3 Industry License
Those companies related to industrial and manufacturing activities must acquire this type of license. Also, this type of company must have a physical office in the UAE.
Some types of industrial license are the following:
Meat products manufacturing
Carpet manufacturing
Garments manufacturing license
Dairy products manufacturing
These are the three main licenses in the United Arab Emirates. However, with the passing of time and the diversification of the economy, the government has created licenses for specific activities. For example, the Media License for bloggers or influencers.
3. What is a Media License for bloggers or influencers?
During the last years, social media influence has grown remarkably. Those individuals whose work is based on social networks or blogging must acquire one of these licenses to operate legally in the UAE.
This license is issued by the National Media Council (NMC). Bloggers can opt for an "individual license", which means they want to work independently.
To apply for this license, you must do it through the NMC and you must submit the following documents:
Emirates ID copy
Trade License copy
Tenancy contract or registered title deed
Also, to be eligible for a Media License for bloggers, you must meet the following requirements:
Be older than 25 years
Must be a UAE resident or a GCC
You must not be a member of the NMC
Have a good reputation
3.1 Penalties for not having a Media License
If you decide not to process this license and work as a blogger or as a social media influencer, the authorities can impose hefty fines on you. Note that the local authorities can penalize you with a fine of up to AED 5,000 for not having this license.
3.2 UAE Social Media Law
Some content may be illegal in the United Arab Emirates due to cultural sensitivities. While the content may be perfectly fine in other countries, it may not be acceptable in this country. If there is something that can affect the good behavior and moral values ​​of the society, these actions can be considered crimes.
Some of these actions can be making and sharing controversial posts about religion, world leaders, politics, etc. For this reason, all bloggers must be extra careful with the posts they make during their time in the country.
4. What is a blog?
A blog is a type of website where one or several writers share their views on a particular topic. These websites can be for personal or corporate use. Also, blogs are regularly updated with content and posts are generally displayed in chronological order. With the newest posts at the top of the page.
5. Some activities bloggers perform
By acquiring an online business license in Dubai, a blogger can perform different tasks related to their profession. For example:
5.1 Content writing
Blog posts aim to offer valuable information to people in a way that is easy to read. This is the first step to gain the trust of readers and being able to convert them into customers in the future.
What you decide to write on the blog is up to you. On the internet, there are blogs for almost any topic imaginable like health, religion, finance, travel, etc. However, to attract a loyal audience, it is advisable to stick to one specific subject. This is known as a niche blog.
5.2 Affiliate marketing
Affiliate marketing is one of the ways bloggers make money. This is based on the recommendation of products within your content. Every time a reader uses one of your affiliated links to purchase a product you recommended; you will earn a commission from the sale.
5.3 Email marketing
Blogging and email marketing are closely related. With email marketing, you can develop a more personal relationship with your readers, through direct communication.
Also, every time you make a new post or promote a new product, you can send this information directly to your subscriber's inboxes.
 5.4 Self-promotion
Self-promotion is one of the most important things you should do as a blogger. After all, if you want new people to know about your business, you have to promote it. This does not mean you should buy ad space or create a big marketing campaign. You can simply promote your content on social networks.
Some social platforms like Facebook or LinkedIn are perfect for promoting your blog as they are free and easy.
6. How can you become a blogger in the UAE?
To start a blogging business in the United Arab Emirates, you need to complete the following steps:
6.1 Select a niche for your blog
To start and manage a successful blog you need to choose the right niche for you. Make sure you choose a niche that you are interested in and one that attracts people's interest.
6.2 Choose a blogging platform
At this point, you should determine the type of management software you want to use and choose the best blogging platform.
6.3 Pick a domain name
Your domain name will be the name by which you will be known on the internet, no matter what niche you choose. This will be the unique address of your blog on the internet. Your domain will be yours as long as you pay the annual fee.
6.4 Get a web hosting
After choosing your domain name, selecting a reliable hosting service will be one of the most important decisions you can make. To a great extent, the performance and the functionality of your site will depend on your blog hosting.
6.5 Select a theme and design
One of the most important things your blog needs is a good appearance (design and layout).
6.6. Make money blogging
Monetization is the process based on transforming your blog activities into profit. It must be remembered that besides the money, being a blogger means creating useful content that will attract people and grow your business.
7. How can we help you get a Business License for your blogging business?
Forming a company in the UAE requires multiple processes and the submission of different documentation. This process can take a long time if the entrepreneur does not have much knowledge about the local laws. This is where Connect Zone can be your best ally.
At Connect Zone, we can help you with the process of obtaining your media license for bloggers, as we guide during the process of opening a bank account and processing your visa. Similarily, we complete each legal and business-related procedure for your business to start running smoothly.

Would you like to contact us for more information about licenses in Dubai and the UAE? Feel free to contact us at +971 43 316 688. You can also send us all your questions through contact@connectzone.ae where one of our representatives will gladly take care of your inquiries.
Are you looking for a job in your field of expertise? thetalentpoint.com has many different employment opportunties available today. You can apply through their website, or simply send your resume to contact@thetalentpoint.com.