Know about the UAE-India Investment Forum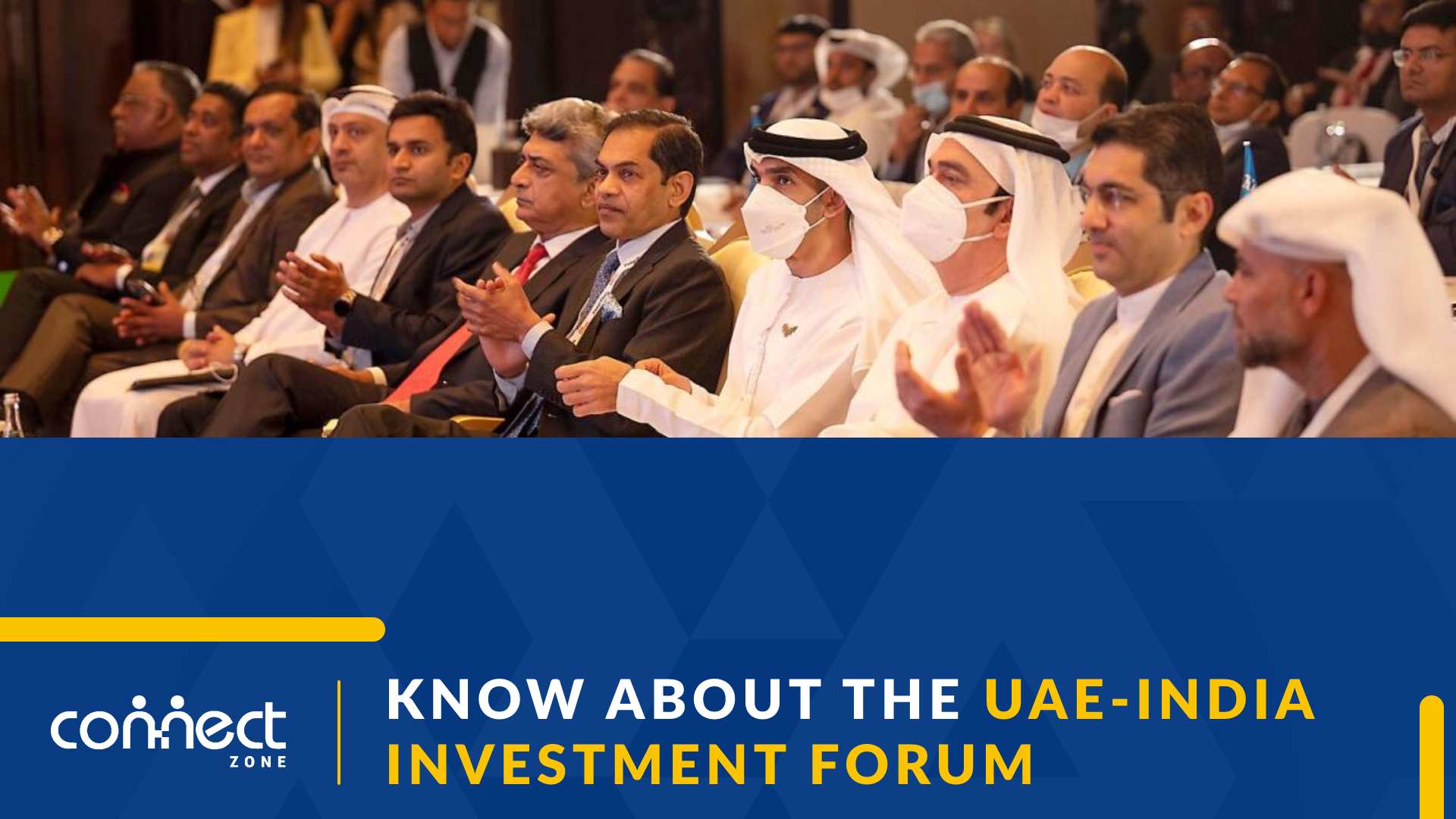 Historically, India and the United Arab Emirates have maintained a good commercial and political relationship. With the signing of CEPA, these relations have reached a new level. And multiple business leaders in the private and public sectors are setting their sights on the massive opportunities that the UAE-India Investment Forum will create for companies in the two countries.
In this article, you will learn about the UAE-India Investment Forum, the background of the relations between India and the Emirates, the CEPA agreement, benefits and key clauses of this agreement.
What is the UAE-India Investment Forum?
What is CEPA?
Key clauses of the CEPA
Background of the relations between India and the UAE
Benefits of the CEPA
How can we help you know more about business opportunities between the UAE and India?
1. What is the UAE-India Investment Forum?
The UAE-India Investment Forum marked a new beginning in the flourishing economic ties between the two countries. This was the perfect place to discuss new opportunities, large corporations, and also the potential to attract investors across sectors.
Some of the topics discussed at the event include the strategic importance of the Comprehensive Economic Partnership Agreement (CEPA); bilateral food security, the startup ecosystem; information technology; and healthcare partnerships, among others.
According to the UAE authorities, the CEPA will open the doors to innumerable opportunities for investment and trade. The bilateral trade is expected to raise around AED 367 billion over the next five years. Note that this agreement is comprehensive, futuristic, and ambitious with a holistic coverage of a wide range of commitments and sectors. Including government procurement, intellectual property rights (IPR), hundred sub-sectors in services, digital trade, telecom, etc.
The agreement is the fastest to have been negotiated between any two countries. It took around 88 days and reflects the confidence and trust that the nations place in each other. For this reason, it marks a new era of prosperity between the United Arab Emirates and India.

1.1 Additional information
The UAE-India Investment Forum comes at the perfect time, both nations seek to ratify the recently signed agreement. India and the United Arab Emirates enjoy complementary economies. Further, there are many things the two countries can help each other with, as they embark on a new era of collaboration and cooperation.
The agreement offers many benefits to the citizens of both countries across a broad spectrum of industries. This event was held close to the signing of CEPA on February 18. And it came into effect on Labor Day (May 1) this year. It will open a comprehensive array of gains for India in sectors such as furniture, plastics, agriculture, and food products. Also, it is estimated that at least one million jobs will be created due to the trade pact between India in the UAE.
The United Arab Emirates is India's third-largest trade partner. This trade agreement will allow the two countries to deepen their economic ties by removing barriers to trade, creating opportunities for small and medium-sized enterprises, and also increasing foreign direct investment (FDI). Exporters will enjoy simplified customs procedures, tariff removal or reduction, access to government contracts, and new opportunities for professional services.
This agreement means a great gain for India. The UAE has agreed to automatic registration and market authorization for India in medicines, in case of their regulatory approval in developed countries such as the European Union (EU), the UK, the UAE, and also Japan. This negotiation also has a permanent safeguard mechanism they can activate in situations of a sudden surge in imports, along with strict rules of origin.
This will prevent products from other countries through the CEPA route.
2. What is CEPA?
The Comprehensive Economic Partnership Agreement (CEPA) was signed on February 18 of this year. It is the first deep and full trade agreement to be signed by India with any country in the past decade.
This agreement will cover trade in goods, trade in services, rules of origin, technical barriers to trade (TBT), dispute settlement, sanitary and phytosanitary (SPS) measures, movement of natural persons, pharmaceutical products, telecom, customs procedures, government procurement, investment, IPR, digital trade and also cooperation in other areas.
3. Key clauses of the CEPA
Some of the notable aspects of this agreement are the following:
3.1 Initial provisions and general definitions
Exclude the energy sector from all aspects and provisions of the agreement, including dispute settlement obligations and related procedures.
References the enabling clause as a legal basis for trade in goods, allowing the UAE to benefit from the special and differential treatment in its relations with India as well as within the WTO framework.
Allows the Joint Committee to assess, review and also propose amendments to the agreement. Including improving market access, in the light of the experiences gained during the application of this agreement and its objective.
3.2 Trade in goods
Establishes a robust legal framework on technical regulations, standards, and also conformity assessment procedures to ensure the smooth flow of trade in goods.
Avoid the use of export subsidies on Indian products destined for the United Arab Emirates.
Provides UAE exporters greater access to the Indian market through tariff elimination or reduction on more than 80% of goods.
Establishes a mechanism for consultations on non-tariff measures that may create trade barriers.
Establishes a committee to discuss all related issues about trade in goods between the UAE and India under the CEPA.
3.3 Rules of origin
Sets special qualifying rules for steel, gold, and also copper sectors to reflect the current capabilities of those industries in the UAE.
Preferential rules of origin govern the criteria for which traded goods are eligible for tariff reduction or elimination. The agreed rules are based on compound criteria of change in tariff classifications (CTC) of the good plus a minimum percentage value-added.
3.4 Sanitary and phytosanitary measures
Enhances understanding and the transparency of the application of the UAE and India's phytosanitary and sanitary measures.
Establishes clear rules on import checks, audits, and certification.
Encourages the adoption and development of science-based international standards.
Establishes a detailed mechanism on phytoplankton and sanitary measures that protect human, plant, and animal health while ensuring such measures do not create unjustified trade barriers.
3.5 Technical barriers to trade
Affirm the use of international conduct as a basis for technical regulations.
Ensures that conformity assessment procedures, technical regulations, and standards do not create unnecessary barriers to trade.
Clarifies cooperation mechanism on conformity assessment procedures and technical regulations.
Establishes a sub-committee to facilitate technical discussions and monitor the operation and implementation of technical barriers to trade measures.
3.6 Trade in services
Ensures that each party receives a customized treatment.
Contains legal parameters to regulate cross-border commerce in services. And also offers service providers an open and non-discriminatory environment for cross-border trade.
Include a total of 11 sectors and more than 100 sub-sectors. Also including business services (professional services, computer accounting, etc), tourism and travel-related services, educational services, construction, and also related services, etc.
3.7 Small and medium enterprises
Provides a mechanism for information sharing concerning all trade-related aspects. Including procedures, regulations, laws, business registration, standards, technical regulations, and also SME programs.
Establishes an SME committee with clear functions to enable SME engagement and also provide them with tools to benefit from the opportunities provided in the CEPA.
Provides a platform for SMEs in the UAE to expand internationally by granting them access to new customers, avenues of collaboration, and also networks.
3.8 Intellectual property
Strengthen the enforcement and also protection of intellectual property rights to promote technological innovation and to transfer and disseminate technology.
Ensures intellectual property provisions are balanced with existing regulations, UAE laws, and also the UAE's international commitments.
Aligns intellectual property commitments with the Doha Declaration on TRIPS and Public Health. Affirming the right to take measures to promote public health.
4. Background of the relations between India and the UAE
Historically, India and the United Arab Emirates have enjoyed excellent bilateral relations, which are deep-rooted and historically nurtured and sustained by civilizational and close cultural affinities, vibrant people-to-people linkages, and also frequent high-level political interactions. The UAE-India comprehensive strategic alliance was initiated during the visit of the Prime Minister of India to the UAE in August 2015.
The growing commercial and economic relations contribute to the strength and stability of a deepening bilateral and rapidly diversifying relationship between the two countries. The UAE and India have been each other's leading trading partners. These excellent relations have continued to enhance and deepen over time. From AED 180 million per annum in the 1970s, UAE-India bilateral trade has steadily increased to AED 60 billion in 2019-2020.
With exports to the United Arab Emirates valued at AED 29 billion for the year 2019-2020, the UAE is the second-largest export destination of India, while Indian imports from the UAE were valued at around AED 30 billion. The UAE is an important source of India's energy supply and a key partner for the development of strategic petroleum reserves, upstream, and downstream petroleum sectors. This country is also the eighth largest investor in India with an estimated investment of AED 18 billion.
The India-UAE CEPA will further cement the already close, deep, and strategic relations between the two countries and will create new employment opportunities, improve the general welfare of the people of the two countries, and raise living standards.
5. Benefits of the CEPA
CEPA provides an institutional mechanism to improve and encourage trade between the two countries. This agreement between the UAE and India covers almost all the tariff lines dealt in by the UAE (7581 tariff lines) and India (11,908 tariff lines) respectively. Note that India will benefit from preferential market access provided by the United Arab Emirates on over 97% of its tariff lines, which account for 99% of Indian exports to the UAE in value terms.
This will affect especially all labor-intensive sectors such as leather, textile, sports goods, jewelry, plastics, footwear, furniture, agricultural and wood products, medical devices, engineering products, and automobiles.
India will also offer preferential access to the UAE on over 90% of its tariff lines, including lines of export interest to the country. In addition, as regards trade in services, India has offered the UAE the market access in around 100 sub-sectors from the 11 broad service sectors such as:
Health-related and social services
Engineering services
Transport services
Recreational, cultural, and sporting services
Financial services
Environmental services, among others.
Both sides have also agreed to a separate annex on pharmaceuticals to facilitate Indian pharmaceutical companies' access to products, especially automatic registration and marketing authorization in 90 days for products meeting specified criteria.
6. How can we help you know more about business opportunities between the UAE and India?
Trade relations between the United Arab Emirates and India bring multiple benefits for the citizens and entrepreneurs of both countries. In the UAE-India Investment Forum, new opportunities will open the doors to investors of large, medium, and even small businesses. For this reason, knowing the process of establishing a company and getting a business setup consultant becomes critical.
With more than a thousand happy clients and 20 years of experience, Connect Zone is the ideal business setup agency. We will accompany you in every legal and administrative process you need. Furthermore, our professionals are highly trained to offer you end-to-end support and to solve any inconvenience that may occur.
Among the services we can offer you are a proper VAT and tax consultancy, full guidance through your freelance visa solicitation process, and more. You should note that with us, you will only obtain the very best!

Contact us and receive more information about the UAE-India Investment Forum. You will be able to find out about all the solutions we have for you by calling us at +971 43 316 688 or emailing us at contact@connectzone.ae.
Do you want to find the best employment opportunities? Try looking for them on thetalentpoint.com. It is as easy as creating an account and uploading your resume. Connect with a wide range of enterprises in the Middle East! Also, you can send your CV to contact@thetalentpoint.com.