How to apply for a virtual company license in Dubai?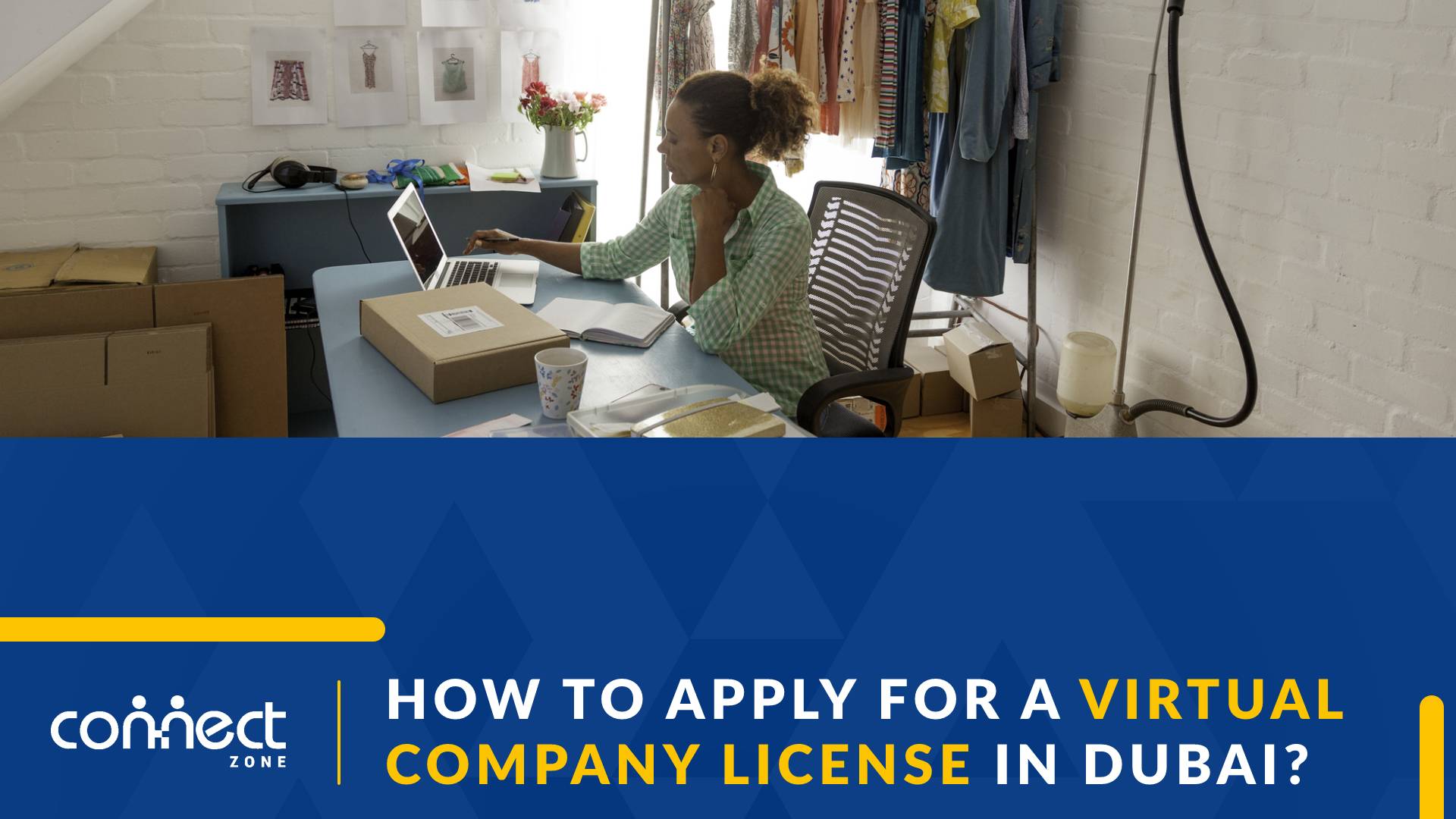 It is no secret that over the years, the emirate of Dubai has offered various opportunities for different types of businesses. Thus attracting a large number of investors. However, to start a company, it was necessary for entrepreneurs to establish themselves in the country. This changed when the government introduced the virtual company license in Dubai, a license that would allow the entrepreneur to establish and operate virtually outside the country.
In this article, you will find information about the process to acquire a virtual company license in Dubai, the requirements, the cost of this license, the eligibility criteria, and also how we can help you obtain this type of license.
What is a virtual company license in Dubai?

Who is this license for?

Requirements for obtaining a virtual company license

Criteria to start virtual companies in Dubai

Process to obtain a virtual company license in Dubai

Cost of a virtual company license in Dubai

Virtual office space in Dubai

What benefits can you obtain by getting a virtual company license?

How can Connect Zone help you get a virtual company license in Dubai?

1. What is a virtual company license in Dubai?
The virtual company license in Dubai is a program that allows entrepreneurs from anywhere in the world to carry out business-related activities online. Including document signing and digital submission and having them be legally binding in the UAE. In other words, it is a new guideline that allows foreign investors to start a firm in Dubai without the need to settle in the emirate.
This new system is available to foreign companies in more than 101 countries. And it covers a wide variety of industries, for example, technology, creative industries, and services. The UAE government sees in this initiative an opportunity to ensure the progress, growth, sustainability, and also the prosperity of Dubai.
This license will give investors access to a regulated e-commerce ecosystem, allowing them to effortlessly collaborate with established businesses in Dubai while exploring new markets and investment opportunities digitally.
This project, which will allow entrepreneurs from any corner of the world to operate digitally in Dubai without the need to physically visit the emirate, will boost business confidence and also open new frontiers for the UAE's and Dubai's growth and competitiveness.
2. Who is this license for?
This license is an initiative of some gubernamental entities, like Dubai International Financial Center (DIFC), the General Directorate of Residency and Foreigners' Affairs (GDRFA), the Supreme Legislation Committee, Dubai Economy, and also Smart Dubai. And it focuses on the following main sectors:
Creative industries

Service industries

Technology industries
This initiative, which offers a wide variety of opportunities for entrepreneurs to work digitally in Dubai without having to be in the Emirate, will increase trust between businesses and investors. At Connect Zone, we can help you obtain an ecommerce license.
3. Requirements for obtaining a virtual company license
Some of the necessary requirements to acquire this license are the following:
Residents of the United Arab Emirates are not eligible to acquire a

virtual company license in Dubai

.

Owners of virtual firms in Dubai must be tax residents or citizens of one of the 101 countries that have been approved.

Only predefined productive activities can establish a virtual firm in Dubai. Some accepted pre-defined business activities are the following: consultancy, advertising, computer programming, printing, and design activities in jewelry, fashion, and interiors.
The owners of this type of company must be aware that their business will be subject to personal, corporate, and also social taxes of the country in which they are located. If the revenue from virtual businesses in the UAE exceeds AED 100,000 per year, the business will be subject to 5% value-added tax (VAT). Therefore, entrepreneurs holding the virtual company license in Dubai must register the company with the UAE federal tax authority.
Another key point of the virtual business license is that it does not automatically provide physical access to the UAE through a visitor, business, or resident visa to any member of the company. The same applies when opening a bank account in the UAE. This process will be left to the discretion of the commercial banks.
4. Criteria to start virtual companies in Dubai
Before making your application for a virtual company license in Dubai, you need to know if you are eligible.
Some of the countries that can apply for this license are the following:
Brazilian

China

India

Canada

Pakistan

Nigeria

Cameroon

Saudi Arabia

Russia

Uganda

UK

South Africa

USES
Some of the non-eligible countries are the following:
Afghanistan

Serbian

Oman

Iran

Egypt

Belarus

Thailand

Sri Lanka

Venezuela
You must also comply with all the checks and processes of a standard UAE company license. If you think that this type of license is the right for you and your business, it is recommended that you hire a business setup agency, such as Connect Zone, to make this process even easier.
5. Process to obtain a virtual company license in Dubai
The procedure to establish a virtual company in Dubai is the following:
5.1 Select a business activity
The first step you must take to obtain this license is to decide on your business activity. Some of the activities you can do are the following:
Web-design

Electronic chips programming

Cyber security architecture

Fashion design

Public networking services

Marketing services via social media

Product design

Typesetting services

Greeting cards production and distribution services

Book-binding

Auditing, reviewing, and also testing cyber risks.
5.2 Select a company name
The next thing you must do is to choose your company name. At this point, you must follow a strict yet easy set of naming conventions. In short, you must avoid any offensive language, you cannot use names that bear any resemblance to the names of well-known organizations, and you must avoid abbreviations if you are naming your company after yourself. For example, it should be Tom Smith consulting, instead of T. Smith consulting. You must also check that the name you want is available.
5.3 Register the company
To start the process of registering your virtual company, you need to go to the official website of Dubai Virtual Company City. There, you will need to complete the online company registration. That record must contain the following information: name, date of birth, contact information, passport information, and any past experience with Dubai (if any). The entrepreneur must also deliver the company's trade license name and the productive activity to which they are going to dedicate themselves.
5.4 Submit the required documents
The next thing you must do is submit the following documents. This list shows all the information you must upload online to obtain this license.
Evidence of address (any utility bill or official letter, no more than 3 months old)

Photocopy of passports

Evidence of tax residency

A recent photograph of the company's owner with a white background

Completed application with your name in Arabic (if your past or current nationality is that of an Arab country)

Information on your experience with Dubai (Have you owned a UAE company? Or acted as a director at a UAE company? Have you visited or lived in the UAE before?)
Important to realize: The documents you submit cannot be older than 3 months and the passport must be older than 3 months to expire.
5.5 Tracking the application
The Dubai government will be the entity in charge of verifying and authenticating the information you provide in the registry through a background check. The phase of verification of a virtual license company can take a month, so make sure the information you give is correct.
Once that time has passed, the entrepreneur will receive an email following the screening procedure, informing him of their rejection or approval.
5.6 Identify verification
After receiving approval, the entrepreneur must go to the appropriate government entities in person for passport verification and identification. Visits to these entities must be scheduled through their website or their mail. For this step, you must pay a service fee plus relevant taxes in the selected country.
5.7 Payment of the license
The entrepreneur must pay the Dubai Virtual Company License fee after properly authenticating their identities. Payment must be made through the official Virtual Commercial City portal, ePay, which is offered by the Dubai Government's. The charge for this license is determined by the license validity in the online company registration process.
6. Cost of a virtual company license in Dubai
Applying for this license is one of the cheapest ways to do business in the UAE. The cost of this license can be structured the following way:
AED 200 for trade name reservation

The fee for the virtual license is AED 680 per year 

AED 300 for identification and validation
7. Virtual office space in Dubai
Those entrepreneurs who decide to start the business process in Dubai virtually can easily set up a virtual office since most of these services are carried out by a third-party service provider and not by the investor himself.
Selecting a virtual office is a process that helps maintain the business on behalf of the owner. Generally, the services that these offices include are phone and mail management. Note that these calls will be answered by the service provider on behalf of the owner.
Some advantages of establishing a virtual office space are the following:
No overhead of having to pay the lease

No utility payments

None of the costs that come with having to set up an office physically in Dubai

Not hardware
Compared to the traditional way of setting up an office, a virtual office saves you a lot of time and money. This type of office will allow the entrepreneur to pass on the savings to different clients. In addition, at the same time it will have a positive effect on the profit margin. As a result, you will be able to invest more into your business setup as well as the people who are connected to your company. 
Connect Zone can help you find the best business center for you to set up your virtual office.
8. What benefits can you obtain by getting a virtual company license?
Virtual companies can improve the lives of entrepreneurs in many ways. Some of the advantages you can obtain are the following:
Manager your business operations online

It reduces the operational and administrative costs of the business. This helps the business to focus on investing in its products and services

It also provides the opportunity and access to new markets, investments, and clients.

It is a good option for freelancers, as it offers them access to companies in Dubai without the need to apply for a

freelance visa

.
9. How can Connect Zone help you get a virtual company license in Dubai?
If you have the necessary knowledge, applying for a virtual business license should not be a complicated process. However, it does require a level of expertise to complete the procedure. For the application process to be straightforward, your license application must be complete at the time of submission and free from errors.
To ensure this is the case, it is always advisable to work with a company formation specialist, such as Connect Zone. We are a team of company registration professionals with more than 20 years of experience in the area and more than a thousand satisfied customers.
As well as handling your virtual company license application, we can also assist you with the formation of Mainland and free zone companies. As it is not enough we can help you find the best business center, open a corporate bank account and also offer you a wide range of PRO services!

Let us take your company to success with our solutions. For a better insight into how our services work, you can call us at the following number +971 43 316 688. If you still have any doubts about our services you can write to us at contact@connectzone.ae. Our specialists will answer all your questions.
Have you been applying for jobs and diverse platforms without luck? Try looking at thetalentpoint.com. You can send your CV and connect with recruiters in the United Arab Emirates. Finding job opportunities has never been easier! Send your experience to contact@thetalentpoint.com for a chance to work with the best professionals.