What is an Emirates ID and why will it be replacing residency visas in the UAE?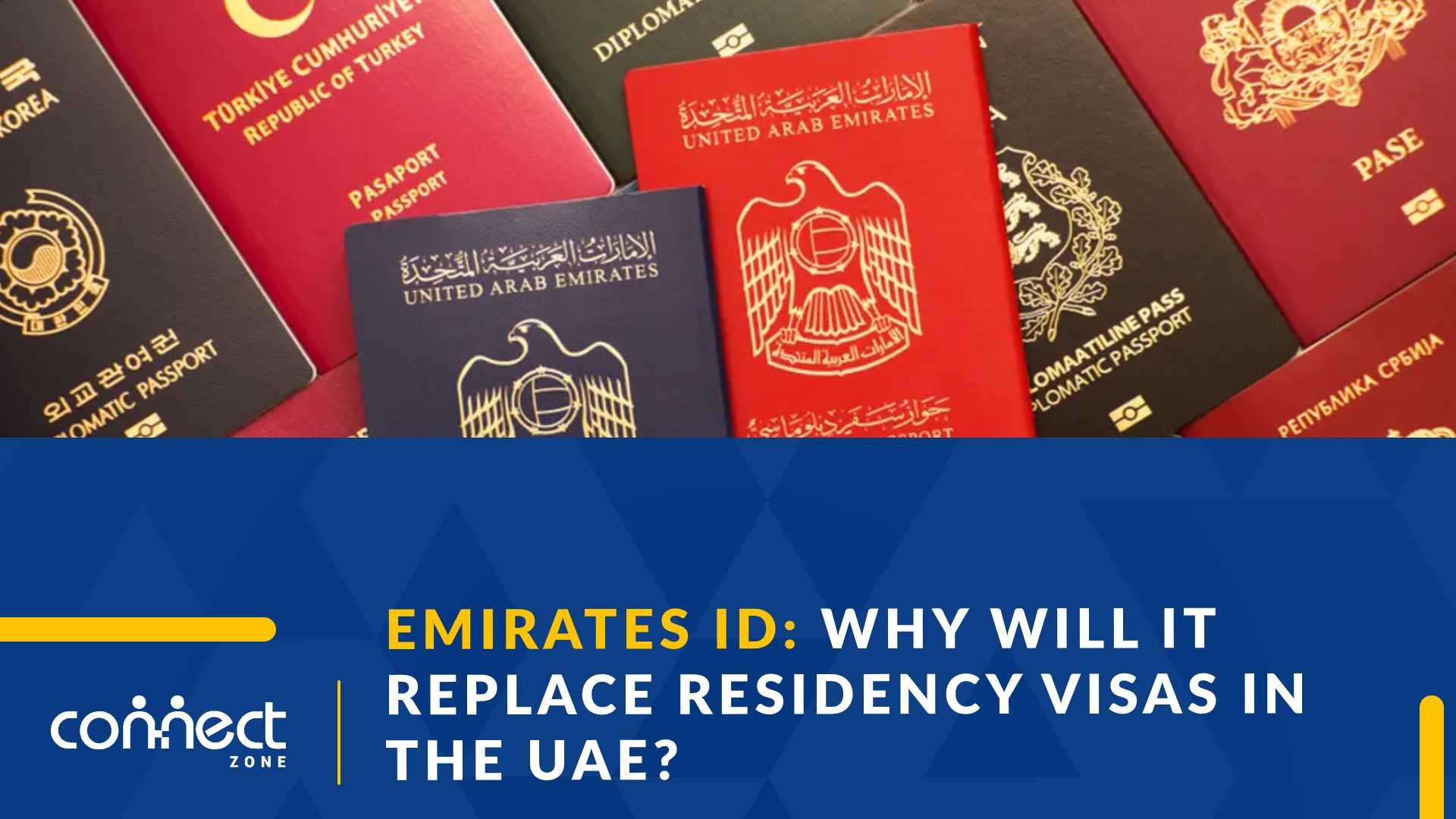 Up until now, the residency visa was a requirement for foreigners that wanted to come to the region and invest. However, from now on, Emirates ID will be replacing residency visas in the UAE. This will be applicable for documents provided after April 11.
In this article, you will learn about this new change and why it is going to be put in place. In addition, we will let you know what is an Emirates ID and what is its main purpose. As well as, what was the use of residency visas in the UAE.
What was the use of a residency visa?
What is an Emirates ID card?
Why do Emirates ID cards will be replacing residency visas?
How to obtain an Emirates ID?
What are the features of a UAE ID card?
How to replace a United Arab Emirates ID card?
How can Connect Zone help you obtain an Emirates ID card?

1. What was the use of residency visas?
A residency visa in the UAE is a permit provided by the local authorities that allow foreigners to work, invest, and live in the region. It is valid from 2 to 10 years and it can be renewed as many times as you need.
Foreigners were able to obtain this document by having a local employment offer, setting up a business in the region, enrolling in an Emirati college or university, owning properties, and with a UAE Golden Visa or a residency visa for retirees.
Subsequently, to obtain a residency visa, foreigners need to legalize their documents. For example, if they have a job offer in the United Arab Emirates, they have to provide their university certificate attested by the embassy of the UAE in their respective country. Then, after applying for the residency visa, individuals will be granted an entry permit.
Once they have this permit, they can enter the region to perform the necessary medical examination and biometric appointment. Lastly, they will have their passports stamped and receive their Emirates ID card.
2. What is an Emirates ID?
An Emirates ID is the principal identification or residency card of every United Arab Emirates resident and citizen. It is a personal document that contains information about every resident and they must have it in hand at all times.
Usually, foreigners obtain this ID card and other types of visas such as freelance visas, from an immigration agency. With their support, you can easily go through the process of obtaining your Emirates ID card in no time. Plus, they will make sure to offer you other services if you are looking to start a company in the area.
Emirates ID cards are necessary for important transactions, for instance:
Paying utility, phone, and internet bills.
Canceling fines.
Registering vehicles.
And now, as a replacement for the residency visa.
It is important to note that if you lost your Emirates ID card you have to replace it immediately. Because, if you fail to present your card when asked by any local authority, you will be in legal trouble. Having an ID card is a legal requirement and everyone must have one, even children and newborn babies.
Consequently, you must provide the right information to your immigration agency. So, they can make sure that every detail is correct once they submit the necessary documents to the local authorities.
3. Why do Emirates ID cards will be replacing residency visas?
The Federal Authority for Identity, Citizenship, Customs and Port Security announced this past April 4th, 2022, that foreigners will no longer need a residency visa to stay in the United Arab Emirates. However, they must have their Emirates ID card in place as it will be replacing this type of visa from April 11th, 2022.
In this way, this move was made to support the recent launch of the new generation Emirates ID. This new card counts with advanced technology that enhances the protection of invisible data. Also, it will be increasing its life for more than 10 years. The new Emirates ID card includes a 3D picture using laser-printing technology that shows the date of birth of the individual.
With this updated card, the United Arab Emirates government will be moving its project to innovate passports and identification cards forward. The next-gen ID card will allow authorities to record population data easier and quicker. As for now, only the digital version of the card is available. Nonetheless, the new physical Emirates ID will be out later this year.
In addition, replacing residency visas with Emirates ID cards will foment the development of services provided by the Federal Authority for Identity, Citizenship, Customs and Port Security. Hence, they will be able to apply best practices in the future. Furthermore, this new implementation will reduce the steps of issuing and renewing residency visas.
Now, your identification will contain details of your residency visa status, once you pass the necessary medical tests. And also, you will not have a page in your passport occupied with a visa sticker. Connect Zone will make sure that you understand every step of the local ID issuing process when you get in contact with us.
4. How to obtain an Emirates ID?
The Emirates ID is an obligatory identification card for everyone residing in the United Arab Emirates. To obtain this card, you can get in touch with an immigration agency to make sure that you go through this process without any difficulties.
The steps to issue your ID are the following:
4.1 Apply for the Emirates ID card
Firstly, you will have to complete a required application form. You must not make any mistakes while filling out this application. To obtain this form, you can get in touch with any of our dedicated agents and they will guide you through this overwhelming procedure.
The fee for this application form is AED 30 and you must submit it to your immigration agency with the following documents:
For UAE nationals: valid passport and family book.
GCC nationals: valid proof of UAE residency, GCC ID card, and valid passport.
For UAE foreigners: work permit and valid passport.
Children under 15 years old: headshot against a white background, original birth certificate, passport of on their parents, valid passport, and entry visa,
For elderly individuals and people of determination: headshot against a white background, a medical report provided by an authorized health institution in the UAE, valid entry visa, and passport.
4.2 Submit documents to the agency
Secondly, you should submit these documents to the immigration agency. In this way, they will provide them to the Emirates Identification Authority. They will take care of guiding you to the office to get your picture taken and go through the biometrics system. Also, you will have to pay the cost of the Emirates ID which is AED 100 per year of validity.
After 90 days, your ID card will be in your hands and you will be able to receive it directly from your agency.
5. What are the features of a UAE ID card?
The Emirates identification card consists of components that provide high-level accuracy and security which are:
Identification number: the identity number of the UAE ID card will be forever with its owner. Number holders can benefit from non-governmental, private, and governmental entities' services. It includes 15 digits and is featured for its single and un-repeated number.
Electronic chip: this chip contains the data of the cardholder. As a result, with this data, users can authenticate their credentials through electronic reader machines. Some of this information is encrypted. Therefore, only authorized entities can read it to protect the security of the data.
Other technologies: Emirates ID cards have top-notch technology that includes accurate letters, line drawing, 3D printing, and more. Additionally, it has security features that do not allow the card to be duplicated. It is at the same standard as the local banking credit cards.
With an Emirates ID card, you can obtain any type of business license, such as an e-commerce license and other types of trade licenses. These processes can often be difficult for foreigners. Nevertheless, with the support of an agency like Connect Zone, they will become easier and hassle-free.
6. How to replace a United Arab Emirates ID card?
If your local ID card is lost, stolen, or damaged, you can request a replacement from the Federal Authority for Citizenship and Identity through an immigration agency. These companies will take care of guiding you through the operation to get it replaced. Subsequently, they will:
Report the incident: with the help of an agent, you can go to an ICA Customer Happiness Centre to report the incident so the lost identification card can be deactivated. Therefore, you should ask for a copy of the lost ID or the ID number confirmation. Finally, do not forget to bring your identification papers with you to prove your identity.
Pay the necessary fees: individuals must make a payment of AED 300 minimum for having their Emirates ID replaced. The fee will vary depending on a series of formalities. This payment applies to all UAE nationals and foreigners alike.
Obtain your new card: 48 hours after applying to replace your Emirates ID card, you will be able to collect it from your trusted immigration agency.
If for some reason you want to update the details on your Emirates ID, you can talk to the agency and ask them for help in this particular process. To make any changes to your UAE ID card, you have to provide your identification card and valid passport and the agency will make sure to submit the changes to the Federal Authority for Identity, Citizenship, Customs & Ports Security.
Ultimately, if you want to cancel your United Arab Emirates ID for the reason of changing jobs and leaving the region, you can explain it to your immigration agency. Consequently, they will hand it to the General Directorate for Residency and Foreigners Affairs. To do so, you have to be sure that you will not be returning to the UAE.
7. How can Connect Zone help you obtain an Emirates ID card?
In summary, having an Emirates ID card is more important than ever. Especially, if you are a foreigner looking to reside in the United Arab Emirates. For this reason, our agency is here to help you. We are a service agency with more than two decades of experience helping our clients start and develop their businesses in the region.
Our company will make sure to provide you with the necessary solutions, such as PRO services, consultancy, visas, and more. In this way, your business can expand all over the UAE with no effort from you. In addition, we offer you the greatest corporate opportunities in the Free Zones and Mainland.
With our specialized support, you can take your business to the next level. We can help you obtain the necessary visas for you and your workforce, licenses, bank account accessibility, Emirates ID cards, and more. We will be your connection between you and the most incredible commercial possibilities that will make your company grow in many areas.
Do you want to obtain your next-generation United Arab Emirates ID card with us? You can send us an email at contact@connectzone.ae to get in touch with one of our agents. You can also call us at +971 43 316 688 and we will make sure to give you all the necessary information so you can have a swift ID issuing process in the UAE.
Furthermore, if you are searching for the perfect job opportunity in the United Arab Emirates, you can go to thetalentpoint.com, and submit your CV or resume. Also, you can send it to contact@thetalentpoint.com and one of our agents will review it. We assure you that you will be finding the job of your dreams in no time.