Get complete insight on how to start an online business in Dubai and the UAE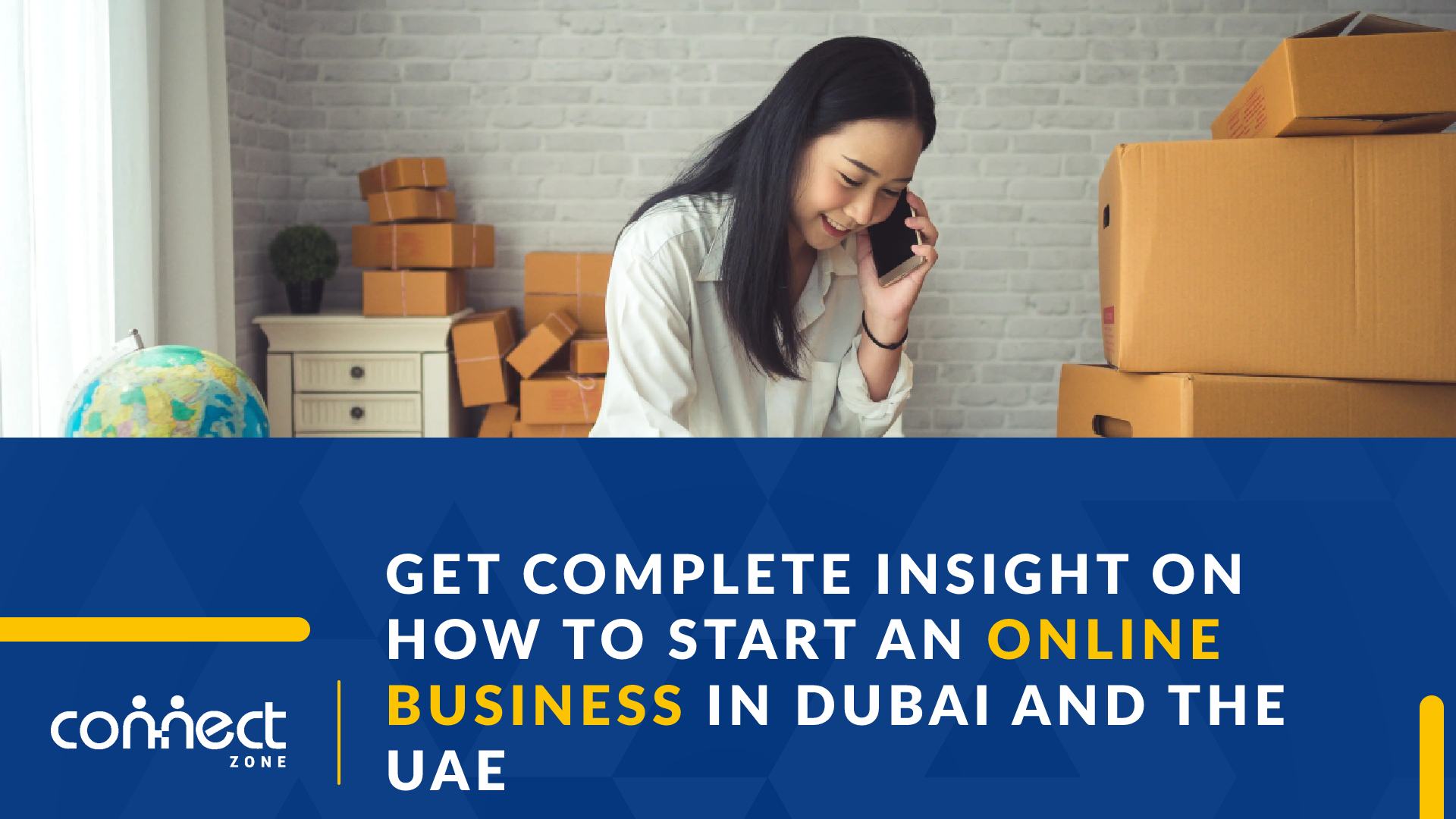 Over the years, business models have evolved. Today, making transactions, attracting new customers and closing deals can be done completely online. With the outbreak of the Covid-19 and the beginning of the pandemic, the new entrepreneurs saw an opportunity to continue generating profits with the formation of an Online Business in Dubai.
In this article, you will find information about what an online business is, what the steps for the formation of an Online Business in the UAE are, what type of licenses you can acquire when creating this type of company and how we can help you become the successful owner of an Online Business in the UAE.
What is an Online Business in Dubai
How to start an Online Business in Dubai?
Dubai Online Business Models
E-commerce licenses in the UAE'S Mainland
Benefits of having an Online Business in the UAE
How can we help you start an Online Business in Dubai?

1. What is an Online Business in Dubai?
A Dubai Online Business, as its name indicates, is a commercial model in which money is earned online, either by offering services or selling products online. Online businesses can cover different areas; they can range from an online food store to private jet booking.
Whether you work for a multinational company or are a freelancer, maintaining a good online presence is necessary for the success of your business.
2. How to start an Online Business in Dubai?
Once you decide that a Dubai Online Business is the right option for you, you must follow these steps:
2.1 Select a product
Firstly, if you are a new entrepreneur, choosing a product or service to offer can be the most difficult step. Before choosing, you should think about:
What kind of products your target audience needs or is attracted to?
How profitable it is?
How well it will fit into the market niche?
Because your business is online, there are certain costs that you must take into account, for example, shipping fees, advertising costs, labor, etc. You must select products that can generate a profit of at least 50%.
2.2 Manufacturing
Once you have chosen the product or service that you are going to offer, you must start thinking about how you are going to source it. Searching for local suppliers and manufacturers, as well as connecting with their communication networks, is the first step when you need a supplier.
The market for Online Businesses in the UAE is quite competitive. Each company strives to deliver a quality product that meets consumer expectations. For this reason, you must make sure to associate with suppliers and manufacturers that will raise your name and meet the standards of your company and your customers.
2.3 Choose a brand name
When choosing a name for your company you should take into account the following aspects:
The name of your company cannot contradict the productive activity to which you are going to dedicate yourself. In other words, the name of your company must show the essence of it.
When you choose the name you must make sure that it has not been previously registered and that it is not protected by copyright by another business in the UAE.
The chosen name cannot be related to God, nor divine attributions in English, Arabic, etc.
Make sure your company name does not contain indecent or obscene words, and cannot offend the general public.
2.4 Choose the right location
When choosing the location of your Online Business in Dubai, you have the following options:
2.4.1. Mainland
Companies operating in the Mainland can freely conduct business across the UAE and in international markets. These types of companies receive their licenses from the Department of Economic Development (DED) and have the advantage of not having a visa limit for their employees, depending on the size of the offices. Also, they can carry out projects for the UAE government.
If you choose to establish your company on the Mainland, you will need a local agent. It is important to realize that our Online Business in the UAE cannot be registered as a Limited Liability Company (LLC)
2.4.2. Free zone:
On the other hand, companies established in the Free Zones can enjoy their low taxes for trading within the limitations of the Free Zone. Low taxes drive the export and import of products. These areas are characterized by the variety of activities that can be carried out in them.
If you choose to establish your company in a Free Zone you will not need a local agent.     And you will be able to register your business as a Limited Liability Company. Deciding between both options will depend on the nature of your Online Business and your public target.
2.5 Initial Approval
After choosing the desired jurisdiction, you must apply to the corresponding government entities, the following documents:
Colored passport photos
Passport copy
Application form
2.6 Start the process of your E-commerce trade license
Once the formation process of your E-commerce Business in Dubai is ready, you can apply for an E-commerce trade license. This license will depend on the nature of your company, the productive activities you carry out, and the chosen jurisdiction.
The Dubai authorities will be in charge of delivering your Trade License and the process will last approximately 7 business days. Also, you must renew this license every year.
During the license application process, you will also need to provide all social media related to your business. Keep in mind that if you decide to establish your online business in the Mainland, you must submit a Memorandum of Association (MoA) as part of the requirements to obtain your E-commerce Trade License.
2.7 Acquire visas
Having an E-commerce Business in Dubai gives you the opportunity to not need a physical office or be physically present in the United Arab Emirates. However, you will need a legal address to be able to operate in the UAE, according to the laws of the country. If you do not want to have an office in Dubai, you and your employees will need to have a visa.
The formation of an E-commerce Business in the UAE allows you to have a Visa valid for 3 years. It must then be renewed every year. The number of Visas you can acquire will depend on the size of your business and where your company is located.
2.8 Opening a bank account
Lastly, once you get your license and establish your company, you will be able to open a corporate bank account. To open an account at the bank of your choice, you must submit the following documents:
Visa copy
Business license
Passport copy
Emirates ID
3. Dubai Online Business models
There is a wide variety of Online Business Models and you can choose the one that is most related to the nature of your business. Some models are the following:
3.1 Business-to-consumer
It is the most common model for Online Businesses and includes the following:
Direct selling: In this model, customers buy products from online retailers.
Community-based: Social networks like Facebook create communities with common interests and help marketers and advertisers to sell their products directly to customers.
Subscription: Some companies charge customers a fee to access their content.
3.2 Business-to-business
In this model a business sells to another business directly, most of the time, the buyer resells a product to a customer.
3.3 Consumer to business
This business model applies to independent workers and freelancers who do work for companies or organizations. In this E-commerce model, the use of a website is very important, as it allows customers to post the work they need to be done.
3.4 Consumer-to-Consumer
This model works through an online marketplace that connects customers to negotiate goods or services. They earn money by making transactions or listing fees.
3.5 Dropshipping
In this model, the stores do not carry the stock of the products they sell.  Instead, they buy their products from a third seller and he is in charge of delivering the products directly. In this way, the seller does not have to deal with the products.
4. E-commerce licenses in the UAE'S Mainland
When starting the formation of an E-commerce Business in the UAE, you have to apply for a license in the DED, in the respective Emirate. All E-commerce trade licenses must have approval of the Telecommunications and Digital Government Regulatory Authority, which is in charge of regulating everything related to E-commerce Business. Some of the licenses issued by the UAE'S Mainland are the following:
4.1 The E-commerce License (Tajer Abu Dhabi)
This license is issued by the Abu Dhabi Department of Economics (ADDED) and allows online traders to add their virtual transactions to their existing licenses. Or they can also acquire a new license to conduct business through social networks and web pages.
Entrepreneurs who have this license can use their E-commerce mark (ETajer) and serial number to promote their products.
4.2 Dubai CommerCity (DCC) Free Zone
Dubai CommerCity is a free zone that seeks to promote E-Trade in the Middle East and North Africa (MENA). This area offers a unique opportunity for E-Commerce in that region and to promote small, medium, and large companies.
4.3 Etimad Domestic License from Sharjah
The Sharjah Department of Economic Development (SEDD) grants the Etimad license for businesses established in the home and for those virtual businesses through social networks.
Anyone over the age of 18 is eligible for this license, however, it is restricted to UAE Nationals residing in the Emirate of Sharjah.
Important to realize: This license does not allow the recruitment of staff.
4.4 Virtual Merchant License from Ras Al Khaimah
The Department of Economic Development (DED) in Ras Al Khaimah issues the E-Trader License to promote those businesses that are managed through Social Networks, smartphone applications, and web pages. Some activities to carry out under this license are the following:
Electronic Retail Business
Commercial and Real Estate Brokerage
Advisory
Information technology and computers
5. Benefits of having an Online Business in the UAE
Deciding to form an E-commerce Business in Dubai brings with it multiple benefits, some of which are the following:
Ownership of a Business: The different areas of the United Arab Emirates allow new entrepreneurs to maintain 100% ownership of their company, depending on the productive activity to which they are engaged.
No personal tax
Full profit repatriation: Companies can send all profits to their country of origin. This allows entrepreneurs to transfer 100% of their capital without any obstacles.
Bank account assistant
Residence Visa granted for 3 years
Low costs in the setup of the company
Easy and efficient trade license process
6.  How can we help you start an Online Business in Dubai?
Over the years, the United Arab Emirates has proven to be a world of possibilities for every area you are interested in. From forming a physical company in a Free Zone or deciding to undertake through social networks, the United Arab Emirates supports, assists, and encourages new entrepreneurs to invest in the country.
The process of forming an E-Commerce Business in Dubai can be tedious and even long-lasting if you do not know the laws of the United Arab Emirates.
Here at Connect Zone, we are your trusted agents, we will be the communication bridge between the corresponding government authorities and your company, we will take care of being your local agent (if you need it), we will accompany you in each step of the process of forming your company and we can even open a bank account for you.

Are you interested in learning more about starting an online business in Dubai & the UAE? You can contact us at the following email address: info@connectzone.ae where one of our advisors will answer all your questions.
Lastly, if you want to apply for one of many job vacancies or obtain a job in our agency, you can send your CV to thetalentpoint.com or you can contact the following email contact@thetalentpoint.com. Do not worry, we will not share or store your information in our database.