How to set up an industrial company in Dubai?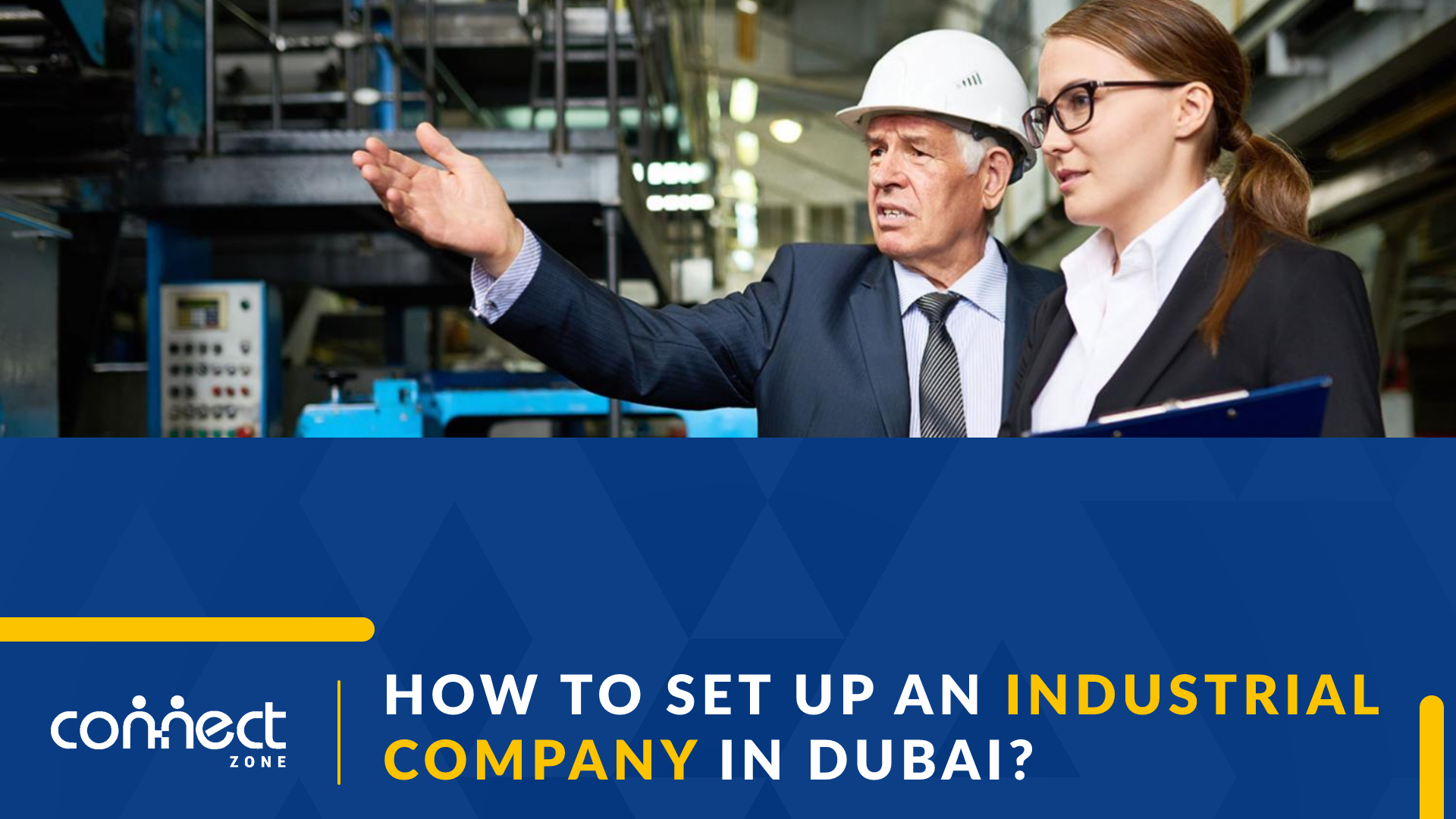 The diversification of Dubai's economy opened up a gap to new methods of income. Among them, the industrial company is an important asset in this Emirate. A strategic location, state-of-the-art equipment, and a successful market set Dubai a perfect center for establishing manufacturing companies of any category.
In this article, you will learn all about setting up an industrial company in Dubai. Plus the long list of business activities you can do. On the other hand, you will find out what steps to take to make the process run smoothly. Moreover:
What types of activities are manufacturing companies in Dubai engaged in?
Why should you start an industrial company in Dubai?
Where is the best area in Dubai to start an industrial business?
How to open an industrial business in Dubai?
What can you do with an industrial license in Dubai?
How much will it cost to form an industrial business and obtain an industrial license?
How can we help you in the UAE VAT Registration process?

1. What types of activities are manufacturing companies in Dubai engaged in?
Dubai is famous for its wide economic activities' diversity. Foreign investors see the Golden City as a zone for establishing manufacturing companies. That is to say, enterprises aimed at manufacturing products from raw materials, focusing on the use of machinery rather than human power.
Therefore, the idea of industrial companies is to create as many goods and services as possible through automated systems using the UAE's tech developments. On the other hand, there are multiple types of activities performed by industrial companies in Dubai. These can be:
Base metal engineering
Chemicals
Transportation
Food and beverage
Machinery
Mining
Energy
Textile
There are other types of companies that work with product manufacturing in Dubai like clothing, hardware equipment, or hydrocarbons. However, companies linked to oil, gas, and telecommunications do have some restrictions when it comes to 100% ownership. Of the rest, all manufacturing companies keep the same benefits, rights, and duties.
2. Why should you start an industrial company in Dubai?
Dubai is a world-class financial center. Any foreign entrepreneur wishing to start an industrial company in Dubai should know the following key points about business setup in Dubai:
Strategic location: Dubai is a city with two of the best international airports and world-class infrastructure allowing investors to access the city with ease.
Local and foreign talent: There is a wide range of local professionals ready to run the machinery of a manufacturing company. Furthermore, the UAE's pro-migration policy allows entrepreneurs to access a highly trained pool of foreign talents from anywhere in the world.
Foreign Investors market: Dubai is one of the best investment cities in the world. Therefore, UAE authorities have flexible policies for company formation. Consequently, the rules and guidelines allow investors to establish themselves with ease and have high levels of productivity.
Broad customer base: Dubai's large population, coupled with its successful market, allows access to a wide variety of customers. In addition, its strategic location allows access to consumers in the Middle East, Africa, and South Asia which may allow for future expansion into other markets
2.1 Other key points to consider are:
One of the lowest tax rates within the Middle East territory
Easy access to logistics equipment and means of transport for products and goods
Economical foreign and domestic labor force.
High-class infrastructures such as business centers, warehouses, and offices
Low cost of resources and energy sources. In addition, Dubai promotes green manufacturing. Resulting in an environment that seeks to promote more environmentally conscious companies.
Constant market development and growth. Providing new opportunities for local entrepreneurs.
3. Where is the best area in Dubai to start an industrial business?
Throughout Dubai, there are multiple Free Zones dedicated to business start-ups like Dubai Multi Commodities Centre (DMCC). However, if your vision is to start an industrial business, it is best to do it in Dubai Industrial City.
Since its launch in 2004, Dubai Industrial City (DIC) is home to more than 500 operational local and international companies. Thanks to its robust infrastructure, tech resources, and competitive enterprise structures and services, DIC aims to be a hub for manufacturing companies to grow with ease.
The DIC is located between Al Maktoum Airport and near Jebel Ali Port. In addition, the area has total free traffic driveways connected to Sheikh Mohammed Bin Zayed Road and Emirates Road. It allows access to different types of company structures such as LCC structure, branches, and subsidiaries according to the owner's license.
Likewise, the DIC guidelines permit maintaining 100% foreign ownership; it has no personal income or corporate taxes and allows full repatriation of invested/generated assets and capital.
4. How to open an industrial business in Dubai?
Although there are very few restrictions for opening an industrial business in Dubai, the procedure is quite simple. All you have to do is to follow the next 10 steps to the letter:
4.1. Choose the type of industry
To get started in the Dubai industrial market, it is necessary to define your industry sector. In other words, choose the appropriate product you would like to develop.
4.2. Find a local partner
Secondly, you should look for a local partner to help you establish your Gulf business easily within the UAE. In this way, you will gain an ally within Dubai who can advise you 24/7.
4.3. Pick a trading name
The next step is to select a name that fits your corporate identity and Dubai's guidelines on the subject. Remember to avoid abbreviations, religious references and, if you use a proper name, it should be that of the owner or a shareholder.
4.4. Initial approvals
To get started, you must obtain initial approval from the Department of Economic Development (DED). You will need to provide a copy of your passport and your detailed business plan to open your industrial company in Dubai. This will allow you to get approval on your trading name and future requirements.
Likewise, it is important to note that you will require some extra permits according to the type of business. For example, some industrial activities may be harmful to humans and the environment. Therefore, it is necessary to obtain additional approvals before setting up in Dubai.
4.5. Post Approval Memorandum of Association
After obtaining approval for the product and trading name, it is time to sign the Memorandum of Association (MoA). For clarification, a draft of the MoA should be taken to the notary's office for owners and shareholders to sign before submitting it to the DED.
4.6. Get a signed NOC
After submitting the required documents, you must obtain a NOC. The No Objection Certificate will allow you to start your manufacturing company operations as soon as possible. For this, you will need a NOC from the Ministry of Economy and Trade. You can obtain it by attaching the necessary documents.
4.7. Locating a commercial space
Choosing a warehousing space or a commercial office is critical. You must choose a location and look for a space to rent or buy. One of the biggest advantages that Dubai has is the wide variety of spaces equipped for industrial businesses.
Also, remember to look for a space that meets the construction measurements according to Dubai regulations. To get a trade license further on, virtual offices are not permitted.
4.8. Ejari and tenancy contract
After choosing the commercial and warehousing space, you must obtain your Ejari registration, the tenancy contract, and a barcode for future reference. Each one will be unique and unrepeatable.
4.9. Last requirements and approvals
Depending on the type of activities and products, you will need to obtain additional permits. For example, obtain approval from the Dubai Municipality and a NOC from the civil defense. This will help you to obtain an industrial clearance.
Similarly, depending on your product, you will also need different approvals. For instance, food control, narcotics department, or Dubai police could be some of the cases.
4.10. Get a valid trade license
Once all the requirements have been met, the only thing left to do is to opt for a trade license. In the case of manufacturing companies in Dubai, the most advisable is to opt for an industrial license.
4.11. Apply for a residential visa
Because you will need a physical workspace, it is essential that you apply for a visa. Depending on your purchasing power it can be a short-term visa, i.e. 3 years, or a Golden Visa which has a longer duration.
5. What can you do with an industrial license in Dubai?
There are three different types of trade licenses in the UAE (industrial, professional, and commercial) and each covers a different set of activities.
Therefore, the industrial license allows its holder to work within the manufacturing industry with freedom focusing on sectors such as food, textiles, metallurgy, heavy equipment and engines, hydrocarbons, and paper.
Getting an industrial license is the final step before opening an industrial business in Dubai because it is the one that guarantees that the business owner has fulfilled all the requirements to operate in the UAE. The license is yearly renewable
5.1 How can you get an industrial license in Dubai?
Among the steps to follow are:
Obtain the appropriate permits from the Dubai authorities.
After three months from the receipt of the authorization, you must apply for your license through DED.
The DED intermediary will notify you of the status of your license within 15 days.
Obtain a permit from the city council to build or modify the manufacturing business space. You will also need approval from the Chamber of Commerce and Industry, the Industrial Registry, and the Ministry of Health.
Submit the required documents according to the specifications
6. How much will it cost to form an industrial business and obtain an industrial license?
Dubai's policies ensure that the company formation process is fast and cost-effective for both foreigners already resident in Dubai and newcomers.
In this regard, the total cost of manufacturing company formation can vary from AED 9,000 to AED 15,000. On the other hand, the license fee can range from AED 10,000 to AED 50,000 annually.
7. How can we help you to set up an industrial company in Dubai?
To sum up, starting an industrial business in Dubai is a perfect option to enter the Emirati market. If you know your product well and have a structured business plan, it is possible to start operations in a short time. At Connect Zone we have more than 20 years of experience helping local and foreign investors to set up their business in Dubai.
Our team is ready to assist you during every stage of the company formation. In addition, we can provide you with bookkeeping services, VAT registration systems, and consultancy services. Likewise, if you are interested in long-term residency in the UAE, we also offer specialized visa services to help you obtain your residency quickly, easily, and cost-effectively.
Would you like to contact Connect Zone to help you set up an industrial business in Dubai Mainland or Free Zone? If you have any questions, call us on +97143316688. Likewise, you can email us at contact@connectzone.ae, and you will talk to one of our representatives who will answer your questions.
In addition, to receive extra information attach your CV or resume to thetalentpoint.com. There is no need to worry, your personal information will not be stored or shared.