DMCC Free Zone Company/Business Setup – the Ultimate Guide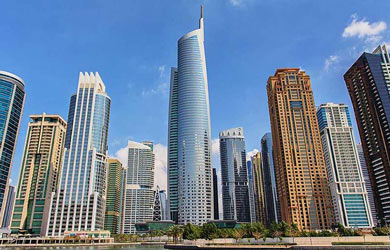 Dubai is indeed a haven to unlock any company's potential. Likewise, the Free Zones in Dubai offer entrepreneurs a destination to thrive. In this regard, the Dubai Multi Commodities Center, also known as the DMCC Free Zone, stands out as a favorite among investors, offering them an easy alternative to create thriving organizations within the UAE.
In this article, you will take in everything about the DMCC Free Zone business setup and learn why the DMCC Free Zone is the best option to start a general trading company from scratch and how to get a quick rise in the Dubai business market. Let's observe:
What does DMCC stand for in Dubai?
DMCC Free Zone vs. other Free Zones
Activities and products allowed in the DMCC Free Zone
Why start a business in the DMCC Free Zone?
Set up a company in the DMCC Free Zone successfully
the DMCC Free Zone Company setup cost
How can we help you with the DMCC Free Zone Company setup process?

1. What does DMCC stand for in Dubai?
One of the UAE's most successful strategies to attract foreign investors to its borders was the creation of Free Zones. These customs-free areas are geographical space within an Emirate that permits different business activities. In the same vein, Dubai has several Free Zones, being one of the most famous the DMCC Free Zone.
Dubai Multi Commodities Center (DMCC) is one of 20 different Free Zones that exist all across Dubai. This entity is the largest Free Zone in all the UAE and has several awards for its rapid financial development.
Do you know how to get a professional license in Dubai? Learn the full process here
The DMCC Free Zone was established in 2002 to provide local and foreign investors a place for business growth, becoming a global commodity trading hub. Likewise, in 2021, it broke records by reaching 18,000 registered companies, turning into "the world's fastest-growing Free Zone" according to the Financial Times fDi Magazine for the fourth time in a row.
2. DMCC Free Zone vs. other Free Zones
When it comes to general trading business setup, more than 170 companies choose the DMCC Free Zone as their preferred business destination. Also, it offers entrepreneurs multiple options of physical workspaces, a thriving market, and a high-level infrastructure to establish their businesses.
Located in the heart of Jumeirah Lake Towers, the DMCC Free Zone has become the most well-known free zone in Dubai. Although Dubai Airport Free Zone (DAFZA) or Dubai Silicon Oasis Authority (DSOA) can be great options for company formation too, the DMCC Free Zone is the most competitive jurisdiction in Dubai.
To sum up, the DMCC Free Zone is a top choice for investors, multinational companies, and small enterprises due to the extensive list of trading and business activities it has to offer. From precious metals trading to cryptocurrency organizations, the DMCC Free Zone is the perfect destination for any general trading company.
3. Activities and products allowed in the DMCC Free Zone
As a general trading hub, the DMCC Free Zone permits companies to establish themselves without problems. However, by being an area focused on general trading, they have a long list of products that can be traded within the Free Zone jurisdiction and outside the UAE.
Some of the most important are:
Vehicles and automotive parts trading
Food and groceries
Water
Clothing, accessories, and shoe trading
Medical supplies and medicines
Heavy machinery
Gold
Precious metals and stones
Industrial materials for laboratories
Tools for the creation of films, TV, and radio programs
Computer parts and software development equipment
3.1 Business activities
On the other hand, the list of activities is not far behind. Among some of the activities that can be carried out within the DMCC Free Zone are:
Insurance Brokers
Consultancy services
Web-design
Software development
Accounting
Bookkeeping
General production services
Fashion and graphic design
Photography
Real Estate Brokerage
Traveling and hotel counseling
Construction
Energy
Shipping services
The list goes on and on. Therefore, there is a huge amount of products and business activities that you can perform within the DMCC Free Zone; you just need to find the suitable one for your company.
3.2 Cryptocurrency
One of the new activities recently added to the long list of trading assets is cryptocurrencies. In this way, the DMCC authorities allowed thousands of crypto-entrepreneurs to establish a new precedent never seen before in the Emirati territory.
Discover here the Top 10 ideas to start a business in the UAE
As a result, the creation of the DMCC's crypto center allows obtaining a license to work with cryptocurrencies. But, in order to operate, list, and trade any cryptocurrency it is necessary to obtain a license first.
Therefore, the crypto activity licenses granted by the DMCC Free Zone are:
Distributed Ledger Technology Services: Allows business owners to offer data management and ancillary services based on distributed ledger tech like Blockchain. However, trade-in activities, currencies and cryptocurrencies exchange, brokerage, payment processing or any other type of financial activity is not allowed with this license.
Trading activities in Crypto-communities: Allows carriers to exchange crypto-assets in applications that allow it. Nevertheless, any type of financial activity such as banking, brokerage or financial services, payment processing, or providing storage space is prohibited.
Also, the DMCC Free Zone is the only Free Zone in the UAE that allows cryptocurrency trading. Therefore, if you are an entrepreneur with an eye towards this digital currency, DMCC is the perfect spot to establish a business.
4. Why start a business in the DMCC Free Zone?
Starting a business in the UAE is an easy process if you choose a Free Zone that suits your company's goals and business plan. Therefore, the DMCC Free Zone grants wide access to one of the most prosperous financial hubs in the world.
Do you know all the benefits of the UAE Golden Visa? Read everything about it here
With a strategic location, flexible taxation, and thousands of tourists visiting it each year, the DMCC Free Zone offers large and small entrepreneurs a place to thrive in a short time. Consequently, the DMCC Free Zone company setup is a complete package of options for any type of investor, enterprise, or start-up.
Likewise, opening a general trading company in the DMCC Free Zone is a perfect alternative for those businesses focused on importing and exporting goods. Thanks to its strategy focused on the global trade of goods, it is a perfect destination for entrepreneurs who wish to succeed in the UAE trade market.
Among other benefits this free zone has are:
Less likelihood of capital loss by allowing full repatriation of assets.
No corporate, import, or export taxes
Multi-activity licenses
A long list of trading activities
Possibility to perform the business setup process remotely
Quick and simple licensing process
Possibility to opt for an investor's Visa for yourself, your beloved ones, and your business partners
Access to multiple workspaces such as Flexi desks, storage units, and service offices
Opting for a 3-year residence visa
5. Set up a company in the DMCC Free Zone successfully
Now that you know more about the DMCC Free Zone and its benefits for foreign investors, it is time to take that life-changing decision and set up a business in one of the most thriving Free Zones all over Dubai.
Click here to read how you can set up an e-commerce business in Sharjah Free Zone
If you are thinking of establishing a new company or a subsidiary in the DMCC Free Zone, the business setup process is very simple. Moreover, the whole procedure is designed to be fast, clear, easy, and, above all, cost-effective.
5.1 Delimit your company's activities and apply for a license.
Any organization or business that wants to establish in the DMCC Free Zone must opt for a license in accordance with the nature of its operations. There are different kinds of licenses you can apply for. Among them are:
Trade License
Service License
Industrial License
Each one has specific requirements on the activities that can be performed under it. However, they can include 6 different activities in the same area. Likewise, the DMCC Free Zone's licenses can have 1, 2, and 3 years validity.
5.1.1 Dual License option
On the other hand, one of the major benefits of opting for a license in the DMCC Free Zone is the possibility of obtaining a Dual License. This type of license allows entrepreneurs to extend the business to the Mainland without resorting to a partner.
Learn everything about establishing a textile business across the UAE by clicking here
Similarly, the dual license allows investors to set up a branch outside the free zone. It is also an economical and time-efficient option. However, to obtain a Dual License it is mandatory to have any of the DMCC licenses and a mainland license.
5.2 Applying online
The DMCC Free Zone allows business owners to fulfil the complete company formation process online. To do so, you must submit the filled application form, a valid trading name, pay an AED 1,035 initial application fee and submit your application through the Free Zone website.
5.3 Filing the documents and paying the fees
One of the last steps in setting up a company in the DMCC Free Zone is to file the appropriate documents and pay the registration and license fees.  Among the documents you will need are:
Copy of passport
Utility bill
CV or resume
A detailed business plan of the different activities of the company
Other documents you might need are:
Copy of parent company documents
UAE Residence Visa or Emirates ID copy (if applicable)
Company's valid address in the DMCC Free Zone (post-registration)
5.4 Choose a suitable workspace for your business
Finally, it is essential choosing a workspace to give a physical address to your business within the UAE. There is a wide range of facilities that you can buy or rent. Also, there are different types of spaces that you can occupy, including single units to multi-store.
Nevertheless, there are multiple options for large and small companies. You also have options for a warehouse facility, an executive office, and a service desk.
6. DMCC Free Zone Company setup cost
As one of the most competitive Free Zones out there, the DMCC Free Zone company setup price can be a little higher than usual. However, it is still affordable for start-up owners, executives, and entrepreneurs.
Discover the ultimate guide for getting an E-version of Emirates ID here
Consequently, the business setup should cost around AED 50,000 in total. There is also the possibility of opting for DMCC company formation packages to speed up the process and decrease costs. However, the price may vary according to the needs of each company and the license the organization requests
7. How can we help you in the the DMCC Free Zone Company setup process?
To sum up, the DMCC Free Zone is one of the best alternatives to establish a business. As a possible location for your business, it has multiple growth options to offer you. In addition, it is perfect to create a home. With thousands of places, experiences, and cultures to know, the DMCC Free Zone is a place to recreate, work, and achieve a better lifestyle.
Therefore, if your new goal is to settle in the DMCC Free Zone, at Connect Zone we are more than ready to reach out to you. Our expert team is prepared to assist you 24/7 during the company formation process, guaranteeing the best results in a short time and at the best price in the market.
Of course, you will also need advice after settling in the UAE. In that case, we are ready to help you with our Pro services. Moreover, we offer different Freelancer Visas services in case you are a remote worker with a view to settle in the UAE soon.
Would you like to contact Connect Zone to help you open Dubai free zone and across the UAE? In case you have any questions, call us on +971 43 316 688. Moreover, you can email us at contact@connectzone.ae, and you will talk to one of our representatives who will answer your questions.
For more information, please attach your CV or resume to thetalentpoint.com. Don't worry, your personal information will not be stored or shared.