Tourism License in Dubai: Get your license with Connect Zone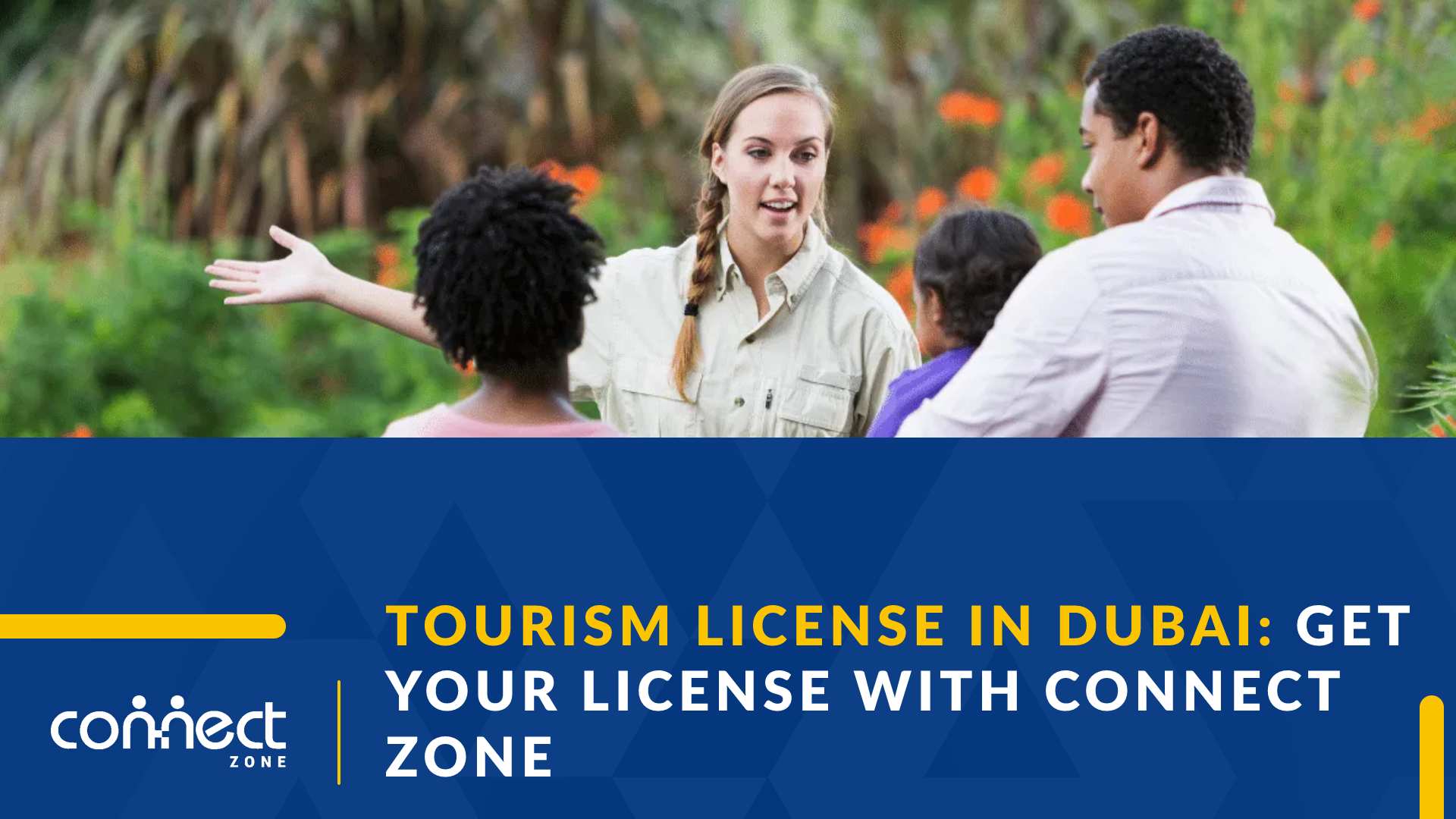 In recent years, the tourism sector in the United Arab Emirates has not stopped growing. Whether for pleasure or business, every year thousands of people decide to visit the country to see the beautiful landscapes and skyscrapers and to enjoy the many opportunities that the UAE offers, such as visas for diverse purposes. In this case, we will talk about the Tourism License in Dubai.
In this article, you will learn what a Tourism License is, what steps you must follow to obtain one, how much is the Travel and Tourism License Cost in Dubai, how we can help you obtain one, and much more.
What is a Tourism License?
Different types of Tourism Licenses
Step by step to obtain a Dubai Tourism License
What are the required documents to apply for a Tourism License?
Which activities fall under the Tourism License?
Tourism License Fee in Dubai
Who can apply for a Dubai Tourism License?
Benefits of obtaining a Tourism License
How can we help you get a Tourism License in Dubai?
The Tourism License in Dubai is an official document that allows companies to carry out activities belonging to the Travel and Tourism sector in Dubai. It is a legal requirement, imposed by the authorities of the UAE to support and regulate the tourism sector.
This sector has shown a rapid growth, which is why the demand for this type of license increases every year.

To start a tourism business, you need a license that suits your needs. Depending on the activity of your company, you can choose between the following Tourism Licenses:
This license allows companies to organize outbound trips. This Visa is extremely helpful for those businesses that work outside and inside the UAE in the travel and tourism sector.
The outbound tour service focuses on assisting people visiting foreign countries from the United Arab Emirates.
2.2 Tourism License for an Inbound Tour Operator
This type of license is responsible for getting license holders to organize inbound trips for foreigners. Tourism Licenses also allow owners to hold global conferences and exhibitions.
This license is responsible for creating a service platform for those investors who can open a Travel Agency. Those entrepreneurs who have this license can sell air tickets to visit foreign countries. Also, it can offer visitor visas to their customers.
A tour guide is a professional in the tourism sector who will be in charge of accompanying foreign visitors to points of interest or important areas of the United Arab Emirates. Anyone interested in becoming a professional Tour Guide must have a thorough knowledge of the history and culture of the UAE, as well as the tourist spots.
Some of the aspects that you must know to acquire a Tourism License for a Tour Guide are the following:
Applicants to be a Tour Guide must participate in the Tour Guide Award Program and pass it.
The validity of the Tourism License for a Tour Guide is one year.
The Department of Tourism and Commerce Marketing (DTCM) gives Tour Guides a Tour Guide License Badge. This badge is mandatory if you want to operate legally in Dubai.
This license must be renewed annually, and renewal can only take place if the Tourist Guide participates in the Department of Tourism and Commerce Marketing annual refresher program.
If for any reason, the license is not renewed for two years in a row, the Tour Guide will be sanctioned by the DTCM and will not be able to operate legally in the United Arab Emirates.
There are several steps to take and various approvals to obtain (especially from the Department of Tourism and Commerce Marketing) if you want to acquire a Dubai Tourism License.
The steps you must follow are the following:
3.1 Select whether you want a Mainland or a Free Zone License
Firstly, before starting the process of forming your company, you need to be clear about what type of company you want to create. In this way, the process of choosing which type of license best suits the essence of your company is facilitated.
You can choose between a Free Zone License or a Mainland License.
If you decide to start a Mainland Company formation, you will be able to make commercial agreements with the government of the United Arab Emirates and with other companies. Also, you will be able to offer your goods and services in the local Dubai market.
However, if on the contrary, you prefer to start a company in a Free Zone of the United Arab Emirates, you can enjoy certain benefits, such as no currency restrictions, 0% tax rate, repatriation of 100% profits, full custom tax exemptions, 100% ownership, among others.
Please note that while your Free Zone Company cannot do business with the local Dubai market, there are options you can explore in the future to expand your business and be able to trade in that market.
Additionally, it is important to realize that these types of decisions is of vital importance for the future. For this reason, it is advisable to hire experts in company formation, such as Connect Zone, to receive valuable advice.
3.2 Define a Business Activity
After selecting the economic jurisdiction in which your company is going to be, the next step is to choose what activity you are going to do.
There are various categories within the Tourism License and it is extremely important that the productive activity you choose aligns with one of these categories.
3.3 Select a Company Name
The government of the UAE is quite strict when it comes to naming the companies that operate on its territory. For this reason, you must know the regulations on this subject to avoid stumbling blocks in the process of acquiring your license.
In essence, you must avoid using foul language that may offend the UAE citizen and you cannot use a name that another recognized organization has in use.
If you plan to name your company after yourself, keep in mind that you cannot abbreviate your name. For example, Daniel Levy Travel is acceptable, however, D, Levy Travel is not.
Last but not least, make sure that the name you choose is not previously registered because if it is, you will not be able to use it either.
3.4 Initial Approval
Once you have chosen the name of your company, the next thing is to obtain initial approval from the Department of Economic Development (DED) of the economic jurisdiction where your company is established.
To obtain approval, you must fill out a form where you will mention certain personal information and information about your company.
Then, all shareholders must sign it and submit it to the DED along with the necessary documents.
3.5 Site Inspection
After the DED approves your application, you must submit a form for them to perform the site inspection.
Remember to give the detailed information of the place where your company's offices are (you can attach the location map). Officials from the Department of Economic Development will visit your office to carry out the pertinent inspection before issuing your license.
3.6 Limited Liability Company (LLC) Contract
To continue with the process, you must make the Limited Liability Company Contract. It must be duly translated and certified by a public notary.
Once the contract is ready, all partners must sign it in court.
Also, keep in mind that if the contract is already written in Arabic, a translation will not be necessary.
3.7 Submit the Required Documents
After collecting all the documents, you must deliver them to the DED, pay all the Tourism License Fee in Dubai and collect your license.
In addition to the documents already mentioned, you may need to prepare a Tenancy Contract to deliver to the Department of Economic Development.
4. What are the required documents to apply for a Dubai Tourism License?
To complete the application process, you must submit the following documents to the Department of Economic Development.
Valid copy of the applicant passport
DED form duly filled out
No Objection Letter (NOC) granted by the Civil Aviation Authority
Study report of the technical and economic feasibility of the project
5.  Which activities fall under the Tourism License?
Some of the activities that you can find within this type of license are the following:
5.1 Organizing Excursions
You can assume the role of a contractor and offer travel agency activities throughout the UAE. In the same way, you can offer groups and individual itineraries independently or as a contractor.
5.2 Business and Corporate Tourism
This service includes a wide variety of activities. For example, workshops, training sessions, meetings, incentive trips, promotional events, corporate parties, and organizing business trips.
5.3 Renting Residential Spaces
The rental of spaces such as apartments, guest houses, villas, and individual rooms is a good way to generate income in the tourism sector.
5.4 Tour Operator Activities
You can organize travel programs outside the country, either independently or by using a travel agent. Also, you can prepare visitor visas, organize local tours, accommodation and transport.
5.5 Tourism Agency
This service allows you to sell airline tickets, programs organized by tour operators, and other related services, such as the schedule of tours and the application of Visas.
The Travel and Tourism License Cost in Dubai is directly related to the activity and size of your company. However, the general price of this license is around AED 20,000.
To promote and support the tourism sector in the United Arab Emirates, the Department of Tourism and Commerce Marketing announced in 2018 the cancellation of one of the largest requirements.
As of that year, it is no longer necessary to have a bank guarantee of AED 100,000 – AED 200,000 for each operation you carry out as a Travel Agent, outbound tour operator, and inbound tour operator. This significantly reduces the initial investment and expense of forming a company and obtaining a Tourism License.
Also, the 300-square-foot minimum has been overturned too.
Certain documents such as the educational certificates and the experience letters have also been removed, greatly facilitating the application process for this license.
Some individuals and companies that need a Tourism License to operate legally are the following:
Car rental firms
Travel agents
Hotels
Restaurants
Travel firms
Once the process of applying for your license is completed and you already have your license in your hands, you can perform the following tasks:
Car rental services
Sell tourism packages via online or offline
Assistance services concerning the application of visas
You can sell flight, railway and bus tickets to tourist
Accommodation and transport services
Having a Tourism License in Dubai opens many doors for you, especially if you decide to dedicate yourself entirely to the tourism sector.
Some of the benefits are as follows:
You can open a corporate and personal bank account
You can plan shows, business exhibitions, and global conferences.
Due to the newly implemented regulations, the initial Travel and Tourism License Cost in Dubai has been reduced.
You can offer guided tours, transport services, accommodation, etc.
With a single license you can carry out outbound tour operator, travel agent, and inbound tour operator activities without any extra cost or bank guarantees.
You can make trips outside and inside the country, thus helping to empower the company's reputation.
The United Arab Emirates has positioned itself as one of the most visited countries in the world, this was the result of the country's innovation, good public policy decisions, and attractive incentives that have motivated hundreds of foreigners to invest in the country.
To have a company dedicated to the tourism sector, it is necessary to go through the entire process of obtaining a Tourism License, and this is where our agency is at your service.

With more than 22 years of experience, Connect Zone is the business setup agency you need to accompany and guide you in the process of setting up your company. When it comes to the tourism sector, we can attend to any need you may have, we will help you with opening bank accounts, we will carry out the Visa application process and we will be the link between your interests and the corresponding government entities.
Do you want to know more about our visa services? You can write us an email at contact@connectzone.ae where one of our representatives will answer all your questions.
Lastly, if you want to work with us, send your application through thetalentpoint.com. You can also submit it to contact@thetalentpoint.com. Your information is safe, as we will not share or store it.