What are business setup consultants in the UAE?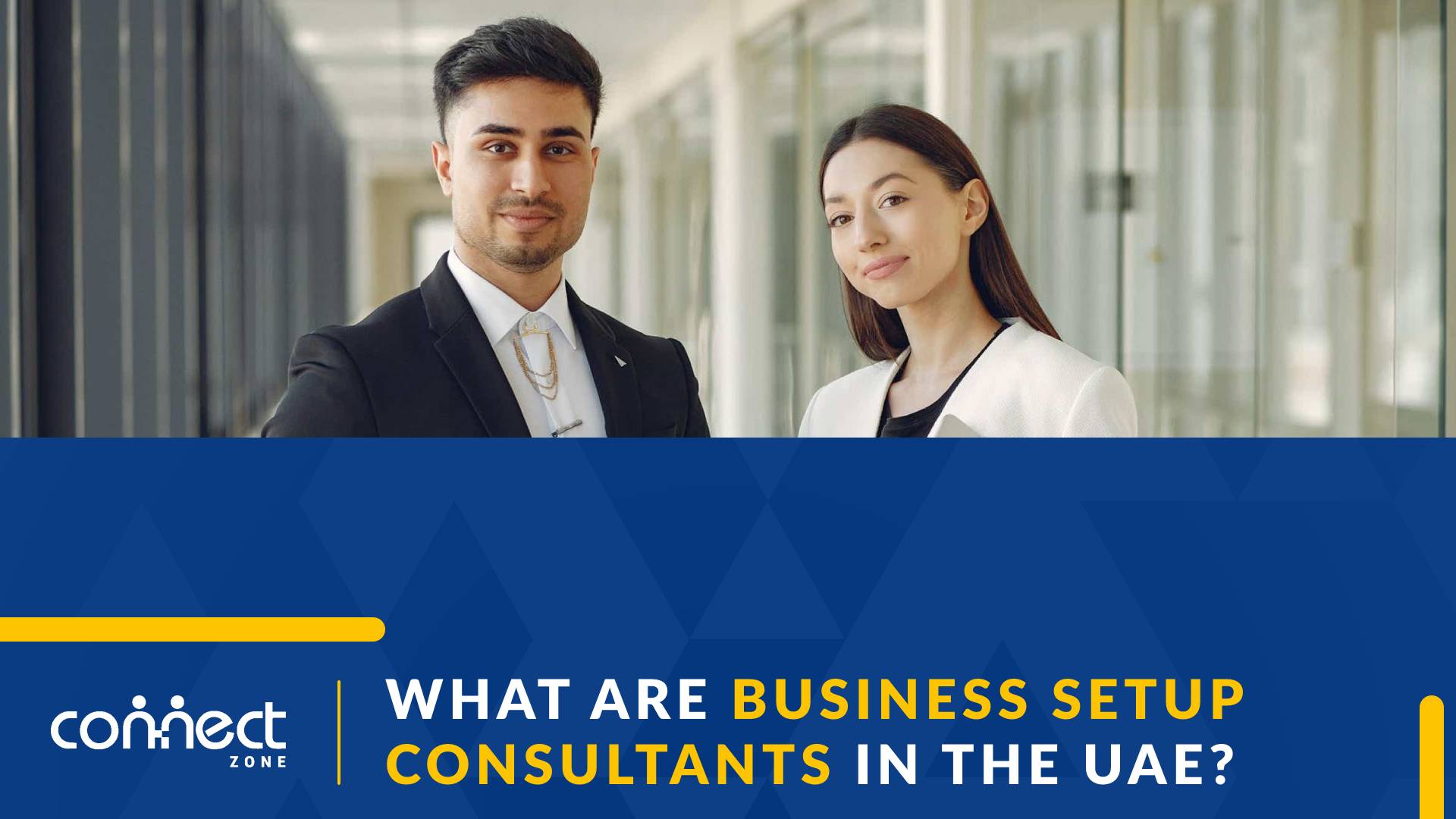 Starting a company in the United Arab Emirates requires countless approvals, exhaustive paperwork, and also really hard work. However, thanks to the help of business setup consultants in the UAE, this process is easier. Choosing the right consultant for you can be difficult, in this country you will find several options, each with different characteristics that can benefit your business. For this reason, we will help you choose the best business setup consultants in Dubai.
In this article, you will find information about the role of company setup consultants, which businesses need these services, and also why you need to hire them.
What are business setup consultants in the UAE?
Things to keep in mind while hiring business setup consultants
What businesses need a consultant?
What benefits can you get by hiring business setup consultants in the UAE?
Why you should hire business setup consultants in the UAE?
Why should you choose the business consultancy services of Connect Zone?
1. What are business setup consultants in the UAE?
A business consultant in the UAE is an individual who works closely with the managers and business owners to improve operations and efficiency. Business consulting includes helping to address, identify, and also overcome obstacles to meet a company's goals.
1.1 Characteristics of the business setup in Dubai
The best business setup consultants in Dubai generally have an area of ​​expertise greater than the staff of a common corporation. So they are able to offer innovative solutions to problems.
The consultants are usually part of a business consulting firm, whose main objective is to help entrepreneurs set up their companies. So, when hiring these services, it is a good idea to take into account the advantages of having an expert partner in the laws and regulations of the United Arab Emirates and in the creation of companies.

1.2 What does a business consultant do?
The business setup consultants in DMCC can assist you with almost any need your company may have. Further, there are business consultants who specialize in specific industries, while others take a more general approach.
Some of the responsibilities of a business consultant in the UAE are the following:
Determine what changes must be made and help implement them.
Assist in business planning and creating new businesses
Implement new programs
Identify obstacles that are preventing growth or efficiency
Provide any necessary training and resources to management and staff
Assess, hire, and also fire staff, if necessary
Locate providers and partners to help meet goals
Analyze the budget of the company, suggest adjustments, and help establish those adjustments.
Bring out-of-the-box ideas to refresh a business.
2. Things to keep in mind while hiring business setup consultants
Some of the things you should consider when choosing the best business setup consultants in Dubai are the following:
2.1 Licensing and legal framework services
The first thing to consider is the licensing and legal framework for your business setup. Starting a company in any area of ​​the UAE brings with it the burden of legal guidelines and regulations. Therefore, choosing a consultant who knows in-depth the legal system of the area is necessary.
For operating a business growth within an emirate, the company trade licensing registration is compulsory. This is to ensure that no business activity can run without the registration of the government department and that there are no health hazards.
Once your company gets approval through a license, no authority has the right to shut down the business without any legal notice or no legal obligation on the business organization.
Dubai provides 3 main options to business startups, which are the following:
Entrepreneurs must decide which option adjusts better to their needs. The Dubai free zone has a special economic place for business setups and offers a wide range of services. For example, business registration, Dubai Freelance Visa obtention, Limited Liability Company (LLC) formation, etc.
On the other hand, the Mainland business registration allows to trade and perform in the Mainland area whether it is taking government or semi-government projects or providing services. The mainland business is most suitable in terms of opening a bank account, getting more visas under the company, and also opening more branches in the Emirates.
Connect Zone is the best agency to help entrepreneurs with proper guidance in company registration. Hence, if you plan to set up your business, please contact us and let us help you through this process.
2.2 Team expertise
An expert and well-established business setup consultant will streamline your business setup process. He will provide valuable recommendations and assess you on ongoing market trends. When selecting your consultant, an expert with expertise in successful business starts is a must-have.
2.3 Finding the location
The location is very important for your company's growth. A consulting firm will assist you in choosing the right location for you. The right place will depend on the nature and the industry of your company. When selecting a consultant, you must keep in mind that they must know to evaluate factors like legal requirements, budget, etc, to guide you in the right direction.
2.4 Setting up your goals
Practice a goal-setting exercise with your consultant. Tell them about the key performance indicators and track the growth of your company. It is vital that you understand your consultants in terms of goal setting and clearly define your predetermined goals.
2.5 Government-partnership
Make sure your business consultant in the UAE is well aware of all the government services. And they must be constantly communicating with the government entities like the Dubai Land Department (DLD), the Department of Economic Development (DED), Dubai Health Authority (DHA), Ministry of Human Resource and Emiratization (MOHRE), etc. If you want a smooth establishment of your business, the association with government entities is vital.
3. What businesses need a consultant?
Any business can obtain benefits from a business consultant. However, some of the companies that can acquire the greatest benefits are the following:
Businesses focused on growth can use a business consultant's strategic skills.
New businesses can use consultants to complete planning and start with the right foot.
Companies starting new campaigns can obtain benefits from the expertise and research of a consultant
Organizations that have a hard time meeting their financial goals can hire a business consultant to dig into their accounting.
Companies adding a new department can get help planning, staffing, and setting up that department.
4. What benefits can you get by hiring business setup consultants in the UAE?
Hiring a consultant can provide many advantages to a company. Some of the most important include utilizing insight and expertise picked up from other clients and industries, taking advantage of an outside perspective, receiving help creating plans as well the resources to make them happen, and more.
Some more specific examples are the following:
Business consultants often work with a variety of clients and in multiple industries. This gives them invaluable ideas and insight from many different avenues.
Designing new campaigns and business plans can be challenging and take a lot of time. The consultants help to develop these plans more clearly and quickly and then help you put them to work.
Business consultants can pinpoint weaknesses and strengths in your company that you might have become blind to over time.
Staying on budget is vital for the success of the company. These consultants can find weak areas in your spending and provide creative solutions for those areas.
Business consultants offer a "bird's eye view" into a company. Many seasoned business owners and managers can struggle with seeing the complete picture as they are in the middle of it. A consultant offers a fresh mind and viewpoint, allowing them to see things that business owners might not.
Business setup specialists bring with them a network they have formed during diverse projects. Companies can use this to gain knowledge and use external resources that a business may not even be aware of.
These professionals can help increase sales by researching your desired client and creating a marketing plan to attract them.
5. Why you should hire business setup consultants in the UAE?
Starting a company requires a solid business plan, and to do it successfully you need a business consultant.
Some of the reasons why you have to hire this type of service are the following:
5.1 Define the right business activities
All companies in the United Arab Emirates must choose a productive activity in order to operate legally in the country. This activity determines the regulations and permits required by government authorities.
A proper consultant will help you establish a productive activity that suits your aspirations.
5.2 Choose the economic jurisdiction
In the UAE there are various jurisdictions, each with different benefits and rules. A business consultant in the UAE can help you choose the location that best suits your business.
5.3 Creation of a business plan
Understanding the process, operation, and legality of the United Arab Emirates market is essential when forming a company. For this reason, having a partner who advises and accompanies you is a very profitable investment.
5.3 Define your company structure
In the UAE there are multiple legally implied company structures, and each business must select one before starting the company registration process.
A consultant will guide you and choose the legal structure that best suits your requirements.
5.4 Mainland, free zone, and offshore company registration
To establish a company in one of the jurisdictions of the United Arab Emirates, the presence of a consultant may be essential. Note that this person will handle all legal and administrative paperwork, they will be responsible for finding an office in one of the business centers and they can even help you find a local agent
5.5 Handle all paperwork with the UAE authorities
A consultant is a person who knows in depth the laws of the UAE. Government authorities are responsible for delivering all licenses and permits so that your company can operate legally.
To obtain a license you need a series of documents. For example, name reservation certificate, passport copies, and depending on the productive activities of your company, certain additional approvals.
However, you can save yourself all this paperwork by hiring business consultancy services.
5.6 Paperwork for a company formation
Certain documentation requires the supervision of a professional. For example, the Memorandum of Association is vital to continue the formation of your company and a business consultant is the perfect partner to do it.
Also, he can help you with the rest of the documentation to ensure every step is done successfully. Another responsibility of the consultants is to pick up the licenses from the corresponding departments and obtain the necessary permits from the authorities.
5.7 Cost-effective process
Consulting firm prices may vary by the Emirate. You can find a low-cost business setup in Dubai that will allow you to carry out each paperwork and process in a cost-effective way.
In addition, obtaining offices and warehouses for rent, and even obtaining certain certifications, becomes very cost-effective since there are fewer chances of making mistakes and applying for unnecessary paperwork.
6. Why should you choose the business consultancy services of Connect Zone?
Although the United Arab Emirates has made the process of establishing a company easier, a certain level of expertise is still required to carry out each procedure satisfactorily. For this reason, it is highly advisable that you hire a business setup agency like Connect Zone to guide you in the right direction.
Our professionals are highly trained in legal and administrative matters, we will take care of establishing effective relationships with government authorities to ensure obtaining the necessary documents to be able to operate in the country.

Let us help you get your business to the next level. It does not matter what type of business are you looking forward to set up, you can always call us at +971 43 316 688 or you can email us at contact@connectzone.ae. One of our specialists will answer all of your questions and concerns.
Are you tired of applying for jobs without much luck? Go to thetalentpoint.com, upload your CV, and get to know multiple job opportunities from diverse enterprises in the Middle East. The chance to work with the best professional is just a click away! You can also send your CV to contact@thetalentpoint.com. Remember that your safety is our priority, we will not share or save your information.