Company Formation: How to open a fashion store in Dubai?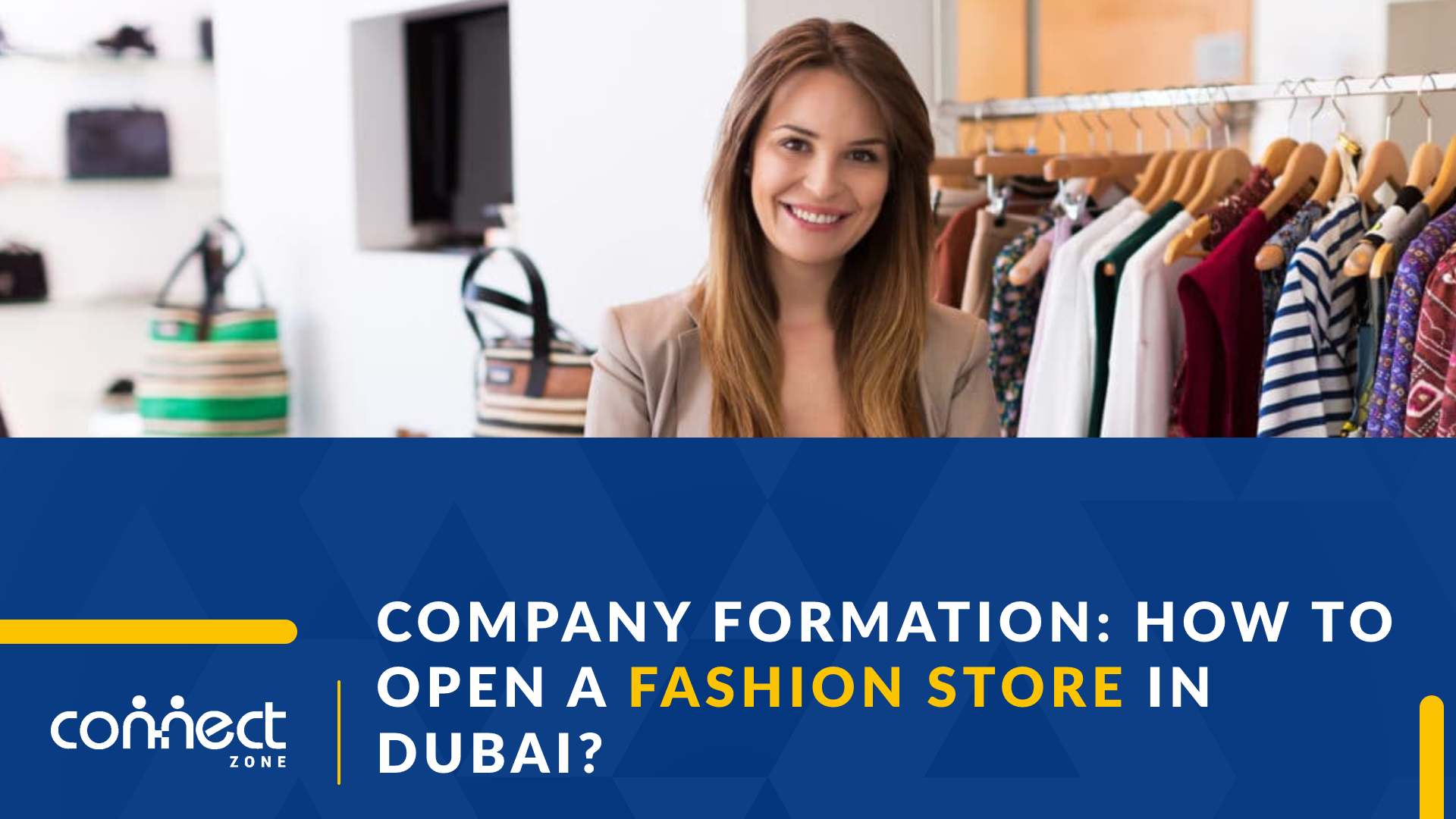 When it comes to the fashion industry, Dubai has positioned itself as a world leader. Multiple well-known brands have decided to establish themselves in Dubai to meet the demand for quality clothing and accessories. At the same time, many new entrepreneurs decide to take the risk and become the owners of a fashion store in Dubai.
In this article, you will find information about the fashion business, what are the steps to a fashion store business setup in Dubai, what benefits can you get by opening this type of store, how to start an online fashion store and how we can help you meet your goals.
The fashion business in Dubai
How to start a fashion store in Dubai?
Benefits of a fashion store company formation in Dubai
Why should you open a fashion store in Dubai?
How to start an online fashion store?
How can we help you open a fashion store in Dubai?

1. The fashion business in Dubai
In recent years, the fashion industry has reached a large part of the UAE market, due to the numerous strategies implemented.
According to Dubai Chamber Research, the fashion industry has contributed an amount of AED 44 billion, with an annual growth of 4.8 percent. Also, the industry is expected to grow the most between 2019 and 2023.
The UAE fashion industry has done a great job of attracting the attention of worldwide investors. Some of the most striking products are bags, footwear, accessories, and apparel.
In essence, Dubai is the perfect place for almost any company, its different areas allow economic flourishing for new entrepreneurs. In the case of the fashion industry, Dubai Design District is the perfect place to start your company.
1.1 Dubai Design District
Since its foundation in 2013, Dubai Design District has been characterized as an area full of opportunities for creative minds and entrepreneurs interested in the fashion industry. This area had a global value of AED 3 billion in 2019 and its sales continue to increase.
2. How to start a fashion store in Dubai?
To open a fashion store in Dubai you must take into consideration the following steps:
2.1 Market research
The first task you must perform is market research. You must understand the population and your target audience, know their preferences and tastes to satisfy their needs.
Analyzing the competition, understanding the demands of the public, and learning what strategies work in the market will be essential for the success of your company.
2.2 Clear your products and your target audience
Once the market study has been carried out, you need to clarify what products you will sell and to whom it is directed. Also, you need to have a clear idea of ​​the supply and demand for your products and form an active network around them.
2.3 Strategic location
It is well known that the United Arab Emirates offers flexibility when choosing a location for your company. Choosing a favorable location is vital to the success of your business.
2.4 Required documents
To complete the process of registering your company, you need to submit the necessary documents to the Department of Economic Development. The necessary documents are the following:
Passport and visa copies of the shareholder
No Objection Certificate for initial and name approval
The application form filled out
Memorandum and Articles of Association (MoA/AoA)
A well-structured business plan
2.5 Approval and license
After the submission of the documents, you need to obtain the approval of the corresponding government entities. Once the approval is received, you will be able to withdraw your specific business license. This license will serve as permission to operate in Dubai.
2.6 Accounting and bookkeeping
From the beginning of your company, you must be very clear about the income and expenses generated. Keeping an accounting and bookkeeping record will help you with the organization of your company.
2.7 Product marketing
The reputation of a fashion store in Dubai is of paramount importance if you want to be successful. For this reason, you should focus on making your brand and products known, investing in marketing strategies, and promoting your services in the local area.
2.8 Online presence
To extend your reach in the market, it is necessary to create an online presence that fits the dynamics of your company and the business environment. In addition to this, creating a web page where you show your products will help you reach a local and international audience.
If you want to enter the fashion industry, there are different types of companies that you can choose from. For example:
Opening a fashion boutique
Manufacturing business
Online fashion business
Wholesaler
The fashion industry in Dubai is a sector full of possibilities for new entrepreneurs, and if approached with the correct strategies, it can result in a very profitable business.
3. Benefits of a fashion store company formation in Dubai
Among the many benefits of starting a fashion store in Dubai, there are the following:
Free zone benefits
No restrictions on trading locations
Low import duty
First-class infrastructure
No minimum capital requirement
Work along with government bodies
Tax benefits
No restriction in currency limitation
More options for business activities
No limitations to the number of visas
4. Why should you open a fashion store in Dubai?
Entering a market that is full of big brands in the fashion industry can be challenging. However, the fact that these brands exist only shows the demand for high-quality clothes and apparel.
This presents opportunities for small and medium-sized businesses to offer services that the big brands cannot. (Boutique fashion, homegrown, etc.) If you think you have the necessary skills to succeed in this world, check the following considerations:
4.1 Huge potential in the market
While the prestigious, international brands fill the need for hot couture clothing, there is still interest from the UAE locals for other types of clothing. The modest, homegrown, and UAE fashion houses are just flourishing and it is a turning point for new entrepreneurs.
In 2021, UAE locals have spent millions on clothing, footwear, and accessories of this kind, with the big brands just watching from afar. It is important to point out that this gap in the market can be considered an opportunity for those entrepreneurs who wish to create a fashion company in Dubai.
4.2 Set up in a Free Zone or in Mainland
Depending on the nature of your company, you can establish your business in a Free Zone or the Mainland. If what you are looking for is to have a retail outlet, then a Mainland Setup is the best option for you.
On the other hand, if you decide to start an e-commerce fashion company, you will notice that the benefits of the Free Zones are more adapted to your needs.
For example, no corporate and personal tax, 100% ownership, and full export and import tax exemption.
4.3 Easy setup
To start a fashion company, either in a Free Zone or in the Mainland, no additional licenses are needed. The process of establishing this type of business is incredibly easy, if you decide to open your company in the Mainland, go to the Department of Economic Development, the process will not take more than 90 minutes.
If you decide to open your company in a Free Zone, all you have to do is go to the authorities of the corresponding zone. Licenses are normally delivered within a couple of days.
The only thing you need to start trading is a license. However, if you wish to establish a brand, you must apply for a trademark, and this can only be requested through the Ministry of Economy.
Whether you decide to settle in the Mainland or a Free Zone, you will find it favorable to hire a specialized company formation services provider, such as our agency, to ensure that the process is carried out successfully.
4.4 Multiple shareholders
Although you have the option to work alone and create the company on your own, you can also establish your company with multiple shareholders in the Mainland or a Free Zone. These shareholders can be corporate entities or individuals.
4.5 Multiple visas
When setting up your fashion company, you will come across many visa options. If you decide to settle in a Free Zone, you will have a limit of visas for which you can apply, and this limit will be directly related to the office space you have. In contrast, for the formation of a company in the Mainland, there is no limit on visas.
However, this is also directly related to your premises. The general rule is one visa for every 100 sq. ft. of office space.
 4.6 Sponsor your dependents
While you must apply for the necessary visas for you and your employees, you can also sponsor your dependents for their visa application. Whether you need a visa for a child, spouse, driver, etc. The process is the following:
Entry permits
Status adjustment
Medical fitness test
Emirates ID registration and visa stamping
4.7 Open a corporate bank account easily
Once you have applied for your license and established your company, you will be able to opt for a bank account. The process to acquire one is very simple, if you decide to open your company in a Free Zone, your staff can advise you on which bank best suits your interests.
On the contrary, if you decide to open your company in the Mainland, an agency specialized in company formation can carry out this process for you. Also, if you prefer, you can go to a local or international bank yourself.
5. How to start an online fashion store in Dubai?
Firstly, online global retailers are a millionaire business and by far one of the most attractive e-commerce areas. Secondly, with revenues exceeding AED 50 billion annually, the online fashion industry is a world of opportunity for new entrepreneurs.
If you are interested in forming an online store in Dubai, check out the following steps:
5.1 Trade license
The main thing to form an online fashion store in Dubai is to legitimize it. Dubai offers a variety of e-commerce licenses that will allow you to operate both in the Mainland and in the Free Zones.
5.2 Cost
The cost of forming an e-commerce company can vary from one area to another. For example, an e-commerce trade license in Dubai Media City can cost AED 40,000 and is divided into:
Registration: AED 9,020
Initial application: AED 1,015
Establishment card: AED 1,800
License: AED 20,285
Memorandum of Association (MoA): AED 2,020
Residence visa: AED 3,330
Visa deposit: AED 3,000
5.3 Documents
For the approval of the e-commerce trade license, you must submit the following documents:
Copy of investor's passport
Business plan for online clothing store
Proof of residential address in the country of residence
Filled and attested online application form
The lease agreement of office space in DMCC
5.4 Online payments
Including an online payment system allows the entrepreneur to generate profits through the online store. To do this, you will need to have two bank accounts, a commercial bank account, and a merchant bank account.
The commercial bank account is managed by the business, while the merchant bank account is managed by the investor and will handle all of the buyer's online transactions.
5.5 Logistics support
It is essential for a fashion company to partner with shipping companies that are capable of delivering products on time and safely. Shipping companies in Dubai offer corporate packages to e-commerce companies, depending on the needs of your company.
6. How can we help you open a fashion store in Dubai?
Connect Zone is an agency dedicated to advising our clients to meet their goals as entrepreneurs in Dubai. We are known for working quickly and efficiently and we place your interests as a priority.
We can help you with the request and application of your trade license, we can act as your Public Relations Officer, and also we can accompany you in each step of the formation of your business.
Do you want to know more about our business setup services? You can contact us through the following email address: info@connectzone.ae where you will speak with one of our representatives, who will answer all your questions.
Lastly, if you are interested in working with us, you can go to thetalentpoint.com and send an application. Also, you can send your CV to contact@thetalentpoint.com. We do not share or store your information.