What is the Process to get a UAE Residence Visa?
The United Arab Emirates has become one of the most popular destinations for businesses in the globe. Investors and entrepreneurs not only want to set up their companies in Dubai, but they also want to establish themselves in the country with their families. That is to say, business owners must get a UAE residence visa for themselves and their relatives.
In this article, you will learn everything about the process of how to get a UAE Residence Visa. Similarly, here you will understand the overall visa requirements and what you need to obtain a visa for you and your family. In other words, we will make sure you understand everything related to costs, the application process, Emirates ID, etc. Let's observe:
What is a UAE residence visa?
UAE Residence Visa Requirements
UAE Family Visa Rules for 2021
Benefits of a UAE Residence Visa
What is the cost of the UAE residence visa?
Dubai visa for Indian Entrepreneurs
Residence Visa renewal cost
Who can apply for the UAE residence visa?
Long Term Visa
Where can the residence visa holder live?
How can ConnectZone assist you in the process of how to get a UAE residence visa?
1. What is a UAE residence visa?
A UAE residency visa is a permit that allows individuals from all over the world to work and live in the country for a specific period. However, the validity of the residence visa varies from 2 to 10 years and holders can renew it multiple times as they require.
Individuals who enter the UAE upon an employment contract, there are more ways to obtain a residence permit. You can start either a business in the UAE or invest in real estate. Applicants obtain additional visas for their immediate family members and children till the age of 18. Moreover, you must enter the country at least once every 6 months in order to keep your visa valid.
Rules of businesses have changed, learn about the things you should know about a 100% company ownership .
2. UAE Residence Visa Requirements
All applicants for the UAE residence visa know the steps, requirements, and application process, they listed below:
Requirements
Complete the UAE residency visa application form.
Copy of your valid original passport.
2 passport-side photographs, ensure they meet the valid visa photo requirements.
Copy and original of your entry visa.
Proof of your sponsor's legality in the United Arab Emirates.
Certificate of your medical health and fitness test.
A valid copy of your health insurance system if you require it.
Copy of the business' valid establishment card and trade license.
In the case of family visa application, applicants must present proof of family ties such as; marriage or birth certificated attested by a UAE embassy in their home country.
Application process
Firstly, your sponsor must obtain an entry permit for you from the ICA (Federal Authority for Identity and Citizenship) online on their website. In addition, they can apply for it via the General Directorate of Residency and Foreigners Affairs (GDRFA) portal, or they can complete it in person from one of the licensed GDRFA typing centers.
Apply for a residence visa
Once the applicant is in the UAE, your sponsor must apply for your residence visa via the GDRFA portal.
Pay UAE residence visa cost
You must pay to get a UAE residence visa at the time of the application. Likewise, fees for the visa vary depending on your residency visa validity. However, residence visas have different validity for investors and employees. That is to say, the visa is valid for 2 years for employees and 3 for investors.
Emirates ID and visa stamping
Once your application form has been approved, the GDRFA will stamp the residence visa on your passport. After that, you will receive your Emirates ID and it will have the same validity as your visa.
3. UAE Family Visa Rules for 2021
In order to get a UAE residence visa in 2021 for your family, you must present the following documents:
Valid copy of all the bio folio in your sponsor's passport.
Copy of your sponsor's visa­.
Your sponsor's original Emirates ID card.
Proof of your Ejari registration (tenancy contract).
Copy of your valid labor contract.
Passport-sized photographs.
Attested copy birth and marriage certificates.
Copies of the passport of your children and spouse with recent colored, passport-sized images.
All residency visa holders can sponsor sons and daughters (as long as they are unmarried) up to the age of 21.
However, the government guidelines for the residence visa state that all applicants must earn a minimum income of 4,000AED (1100 US dollars) and have the means to sponsor their family.
In case you want to keep learning, we have a guide on how to get a 5-year multiple entry visa in the UAE.
4. Benefits of a UAE Residence Visa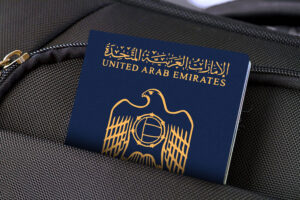 The UAE residence visa offers several benefits and advantages to all its holders. Likewise, here is a list of some of them:
Holders can open any business in Dubai or the UAE with no complications and hassle-free.
You can open a bank account in addition to the corporate one.
Sponsor your spouse and children.
Excellent international connectivity to investors and entrepreneurs.
You can buy and own properties in the country.
Multiple entries into the UAE in the duration of your residency visa.
Live and develop in one of the world's successful countries.
An ex-pat-friendly country.
5. What is the cost of the UAE residence visa?
All fees to get a UAE residence visa may vary depending on the person that will be sponsored. The next list will show you an approximate cost breakdown:
For spouses: it ranges from 3,000 to 4,000 AED. It has an additional cost of 1,500 AED (refundable deposit, if applicable).
For children: this fee varies from 3,000 to 4,000 AED. It may have an additional cost of 1,500 AED (refundable deposit).
Employment (also depends on your employee's designation): ranges from 5,000 to 7,000. It does not have additional costs.
Investors: the cost for this residence visa is 4,000AED and it includes the change of status, Emirates ID, visa stamping, and medical test. Medical insurance can be an additional cost.
6. Dubai visa for Indian Entrepreneurs
The United Arab Emirates has become a popular destination among Indian people for residency and businesses. Likewise, Dubai has been the home to Indians for several decades, by means of investment, employment, and entrepreneurship. That is to say, Indians and all ex-pats who want to live in the UAE need a residence visa, it is the official permit granted to foreign nationals.
The UAE is one of the best locations for establishing a business, we have an article on how to open a business in Dubai.
However, the General Directorate of Residency and Foreigners Affairs (GDRFA) is the government body in charge of issuing all residence visas in Dubai and the UAE. These visas are valid from 2 years to a decade.
Likewise, the UAE government grants residency permits valid for 5 to 10 years to Indian entrepreneurs under the golden visa program; this is aiming to increase the ease of doing business in the country. However, business owners must have a valid established company worth at least 500,000 AED and must be an accredited business incubator.
That is to say, business owners have to make deposits of 5 and 10 million for the five- and ten-year period respectively.
7. Residence Visa renewal cost
All United Arab Emirates residence visas renewal fee depends on their type:
Employment visas:
Labour fee based on the category of your company.
PRO services.
One-time government fee.
Emirates ID and medical screening test.
Insurance fee for workers with limited skills.
Partners or investor visas
Medical typing fee
Emirates ID typing
Residence visa typing fee
PRO service.
8. Who can apply for the UAE residence visa?
Individuals may acquire a residence visa in Dubai and all across the UAE under the following circumstances:
Purchase real estate
If the applicants buy real estate property in Dubai or the UAE worth at least 1 million AED, they can get a UAE residence visa valid for 2 years.
Employment contract
If applicants are planning to obtain legal employment in the country from a UAE-based company, they will need a work visa. Therefore, your employer must do all formalities of the sponsoring process and it will take an average of 2 to 3 weeks. After that, the applicant will receive the initial work entry permit; which is valid for 2 months.
Likewise, the applicant will convert this entry permit into a residence visa valid for 2 or 3 years.
Establishing your business in the UAE
This method is one of the most efficient ones and it is a favorable way of acquiring a residence visa as a shareholder or an investor. This process only takes few weeks and its fee is relatively low. In other words, the company structure can be strictly formal as long as it complies with the necessary Economic Substance regulations.
Similarly, this type of visa for shareholders and investors is valid for 3 years.
Studying in the UAE
Students can obtain a student visa for pursuing a course of study in the country.
Being a family member of a UAE national or resident
Individuals may also get a UAE residence visa through this method.
9. Long Term Visa
The UAE government has launched an initiative that allows citizens to obtain a 5 or 10-year residency visa based on their investments in Dubai or all the UAE. That is to say, individuals must make either 5 million or 10 million AED in real investment funds, businesses, or investment in real estate.
However, these long-term visas have a special category for researchers or highly skilled individuals. These individuals must have a valid employment contract in Dubai or the UAE; and they also must prove their addition in their specific field of medicine, science or arts.
10. Where can the residence visa holder live?
It does not matter what authority issued your residence visa, holders can live in any other Emirate or they can maintain the Dubai residency visa in the same way. In other words, any visa acquired in Dubai or another Emirate, automatically makes eligible for the UAE permanent residency. However, you can settle you or your family anywhere you want.
In other words, visa holders must apply for things like a driver's license in the Emirate of their visa. That is to say, if you established a business in Fujairah free zone, you must apply for your driver's license in that specific zone, and its traffic authority accordingly.
Online businesses are growing rapidly, learn how to get an e-commerce license in Dubai.
Although Dubai can sometimes be a more expensive city, it has many advantages. It has great malls, the largest amusement parks, and fashionable restaurants; it is one of the most secure cities in the world as well. However, all cities in the UAE have advanced infrastructure such as hospitals and clinics, schools, industrial centers, etc.
11. How can ConnectZone assist you in the process of how to get a UAE residence visa?
Now that you understand every fundamental step of how to obtain the UAE residence visa and why it is a good option. In these processes is always good to have someone you can trust that can help you in every step. A good business partner will make this process hassle-free.
In other words, ConnectZone offers companies the best option when you are trying to settle your company in the UAE. We offer companies and businesses a huge list of services in all the Emirates, we can also assist you in the process whether you are looking to settle in Mainland, Offshore, or any of the Free zones.
We have packages including multi-year deals, general special discounts, and group visa packages.
However, ConnectZone is part of ConnectGroup; we have other services that assist companies such as bank account opening, PRO services, and others.
We have more than 2 decades of experience in helping companies to succeed in their tasks and we will guide your company in every step and assist you in any way you need.
After you get a UAE residence visa, you can also ask for any of our services that aim to boost your organization's growth. However, if you want to improve your HR department, you can ask for HR consultancy and payroll services.
Would you like to contact us to learn more information on how to get a UAE residence visa?
Feel free to contact us any time you want if you want to request any of our services by calling us on +971 4331 6688 or if you want additional information, you can email us at contact@connectfz.ae
In conclusion, you can visit our website to obtain more information.