How to get a trade license in Dubai without an office space?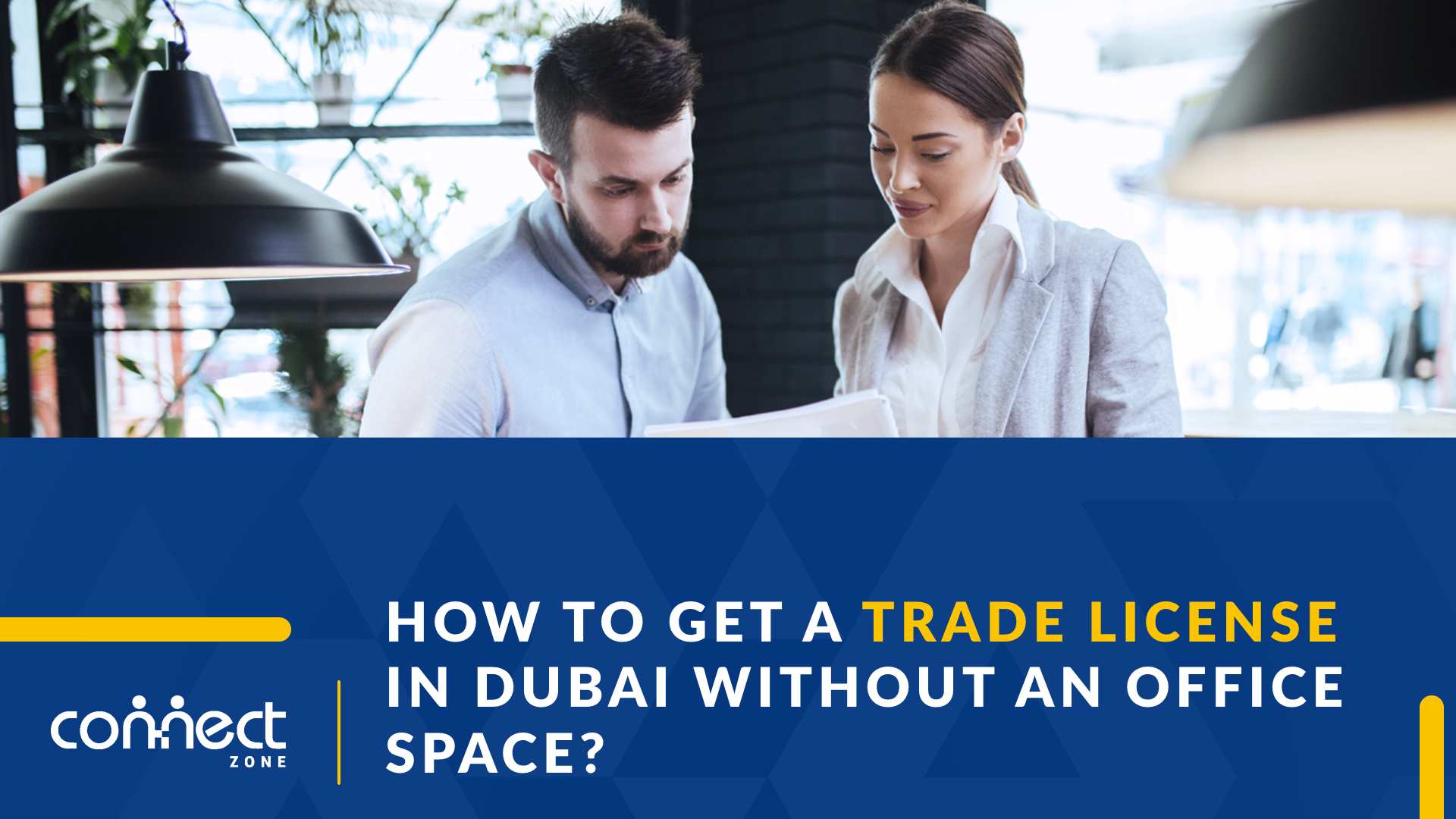 In recent years, Dubai has become the destination for excellence for new freelancers, entrepreneurs, or already consolidated businessmen who seek to expand their businesses in an area full of possibilities for economic growth. To carry out the formation of a company in Dubai successfully, it is necessary to obtain a Trade License Dubai, which will allow you to carry out all types of transactions legally and safely.
In this article, you will learn about what a Trade License Dubai is, how to get a Trade License in Dubai, what you need to know to get a Trade License without an office space, and how we can help you with the process of obtaining your license.

A business license in Dubai is a document that indicates what activities a company can carry out in the UAE. General Trading Licenses apply to various activities and are issued by the Department of Economic Development. Keep in mind that among the activities that can be carried out with this type of license are the performance of commercial activities and the import and export of goods.
Currently, there are mainly three types of business licenses in Dubai (Commercial, Professional, and Industrial), however, you can find more depending on the economic jurisdiction in the areas of Dubai. Some of the trade licenses Dubai that you can find are the following:
Commercial Trade Licenses are delivered to those companies whose activities are directly related to trade, purchase, and sale of goods and services, export and import of products, brokerage activities, and car rental.
Important to realize: If your business is located in Dubai and you want to trade outside the UAE, you will still need a commercial trade license.
The Professional license allows individuals or companies to pursue their chosen profession, based on their education. Some of the activities covered by this type of license are the following:
Carpentry
Printing and Publishing
Security Services
Repair Services
Beauty Salons
Medical Services
Computer Graphic Design
Craftsmanship.
Digital Marketing Services
With a professional license, foreign entrepreneurs can maintain 100% ownership of their company.
If you have a company that is dedicated to industrial or manufacturing activities, you will require an Industrial License Dubai to carry out the activities. Entrepreneurs can assemble and process goods using domestic or imported raw materials. You need an Industrial License Dubai for the following activities:
Equipment and engines
Paper
Food
Textile
Metals
Petroleum products
The Tourism License is for those businesses that operate activities related to the UAE tourism sector. Some activities are the following:
Cruise Boat Rental
Restaurants
Travel Agencies
Tourist Camps
Hotel rental
Guest House
The UEA government introduced this license for a more efficient control the tourism industry. Also, compared to the others, this Tourism license is relatively new.
2.5 Agriculture License:
This type of license is delivered to those businesses dedicated to cultivation and harvesting activities, installation of greenhouses, trading of pesticides. Also, it is given to those companies dedicated to agricultural consultancy.
2.6 Craftsmanship License:
Those individuals who engage in activities related to electrical work, plumbing, carpentry, must acquire this license. For this reason, if a company hires a craftsman, then they need to apply for the license.
In the United Arab Emirates, it is illegal to operate a business without the corresponding UAE license, you can be sanctioned or banned. In addition to this, the Trade License renewal must be every year to avoid penalties.
Due to the growing population of entrepreneurs who have come to form new companies in Dubai, the UAE government has facilitated the process to acquire business license Dubai. The process consists of the following steps:
3.1 Choose the economic jurisdiction:
Firstly, to start a company, you must choose in which economic jurisdiction you want to operate. In Dubai, these can be Free Zones, Mainland, and offshore companies.
3.2 Choose the company structure:
At this point, you must choose the legal form, this will determine the rules and regulations to which your company must submit in the future.
 3.3 Select the business activity:
The productive activity to which you are going to dedicate yourself will determine the trade license for which you must apply. Select all activities to work because later you will not be able to operate activities that you did not choose beforehand.
3.4 Get the initial approval:
After completing the first three steps, you must get approval from the Department of economic development in Dubai, to do so you must fill out an application form that they will provide.
3.5 Choose your business location:
To get your business started, you must choose where your company will be. Once the place has been chosen, you must obtain a tenancy contract, Ejari must certify it and send it along with the rest of the documents.
3.6 Prepare the MOA
The memorandum of association is of the utmost importance when applying for a business license in Dubai. It is recommended to hire legal experts to carry out this document.
3.7 Get the external approval:
Depending on the productive activity chosen, you may need the approval of other government departments and entities.
3.8 Submit the documents to the Department of Economic Development
To complete your application for your trade license, you must submit the following documents:
The Memorandum of Association
The tenancy contract and EJARI
The initial approval letter from the DED
The DED application form
Copies of all the shareholders' passports
These are some of the most common documents, however, others can be added, depending on the chosen productive activity.
3.9 Complete the final application
After completing all the above steps, you will need to submit the documents and complete the final application from the Department of Economic Development.
3.10 Pay the fees
Once approval is received from the Department of Economic Development, you must pay the fees and receive the trade application.
4. Benefits of applying for a new Trade License
There are many benefits to getting a Trade License Dubai, such as:
4.1 Low taxes
One of the reasons why so many people have decided to start a new life in Dubai is the low taxes. While most countries require investors to pay large amounts of money, Dubai does not. Since Dubai is almost tax-free, investors can earn additional revenue. Money that would otherwise go to taxes can be used for production costs, instead.
4.2 Easy set-up
Getting a Trade License Dubai is much faster than any other procedure. As long as you have the corresponding documentation, you should receive your trade license without any problem, in a few weeks.
4.3 Fewer trade restrictions
Dubai has very few restrictions when doing business, which makes it easy to trade from one place to another. For this reason, as long as you register your products under the appropriate license, you will not have to worry about restrictions.
4.4. Sponsor opportunities
An important point of obtaining a Trade License Dubai is that you can sponsor dependents. This makes it easy to bring family members or employees over to Dubai.
4.5 Boost international and local trade
With a general trading license, you have the opportunity to produce or import products, either to the local Dubai market or abroad, and receive profits from other countries.
Also, this type of license gives you the opportunity to re-export your products, this can help you improve your ability to trade goods and services around the world.
The Department of Economic Development and the Free Zones in the UAE have enabled license packages for virtual companies. In other words, small entrepreneurs can start working without having a physical office.
Also, as an initiative of the government of the United Arab Emirates to boost economic growth, they have introduced the "Instant Trade License". This is a variation of the normal Trade License that you can have in just five minutes and brings with it unique benefits.
     5.1 Benefits of the Instant Trade License:
It is not necessary to carry out the Memorandum of association
Does not require trade name registration for the first year
Can be ready in five minutes
It is not necessary to have a physical office
5.2 Documents required to acquire an Instant Trade License
Passport copy for all licenses (Partners and managers)
A copy of your Visa (If applicable)
A copy of your residence Visa and a No Objection Certificate (If applicable)
Also, note that Instant Trade Licenses can only be applied to those businesses engaged in activities that do not require external approvals.
6. What you should know about getting a Trade License Dubai without a physical office?
By not having the concern of a physical office, there is a lot of flexibility when working, however, you should take the following aspects into account:
6.1 Create your business plan
The employer must create a business plan to accommodate the flexibility of working hours and the availability of their workers to meet business requirements. You should also be knowledgeable about current market conditions. That is to say, having a business plan will ensure an organized and stable future for your company.
6.2 Alternative workplace
Firstly, without a physical office, the entrepreneur must find an alternative to his workplace. Secondly, it must be a quiet place where the investor can concentrate and offer quality work.
Some jobs can be done remotely and efficiently. For example, software programming, IT, project management, services engineering, consultancies, etc. Also, most interactions are virtual, making the need for a physical office obsolete.
6.3 Use of the right technology
Investing in technology is essential for maintaining a virtual company, to keep your employees and clients active. In addition to this, the latest technological advances have achieved efficient work and communication from many parts of the world.
6.4 Allocate flexible working hours
One of the most important advantages of the no-office package is the ability to work at any time and from anywhere. Also, they can organize meetings with clients from different parts of the world.
6.5 Virtual meetings and teams
Learning to work through the tools that technology offers us is of the utmost importance. Besides, conducting virtual meetings, hiring remote staff and online teams is the right way to go if you want to succeed by having a company without a physical office.
7. How can we assist you through the process of obtaining a Trade License Dubai?
Carrying out the different legal processes to live and work in the United Arab Emirates can be long and difficult if you are a new entrepreneur. For this reason, we want to provide you with support and guidance so that you can carry out all your processes quickly and efficiently.
Our experts have the training to carry out the entire process of applying for a trade license, also, Connect Zone is the perfect agency to start/renew your visa and act as your local agent.
Do you want to discover more about the Trade License Dubai? You can contact us at the following email address: info@connectzone.ae. Here, you can communicate with one of our representatives, who will answer all your questions.
Also, if you are interested in knowing more about us, visit thetalentpoint.com or send your CV to contact@thetalentpoint.com, no need to worry, your information will be safe with us, we will not share it or store it in our database.