Learn how to check a Trade License online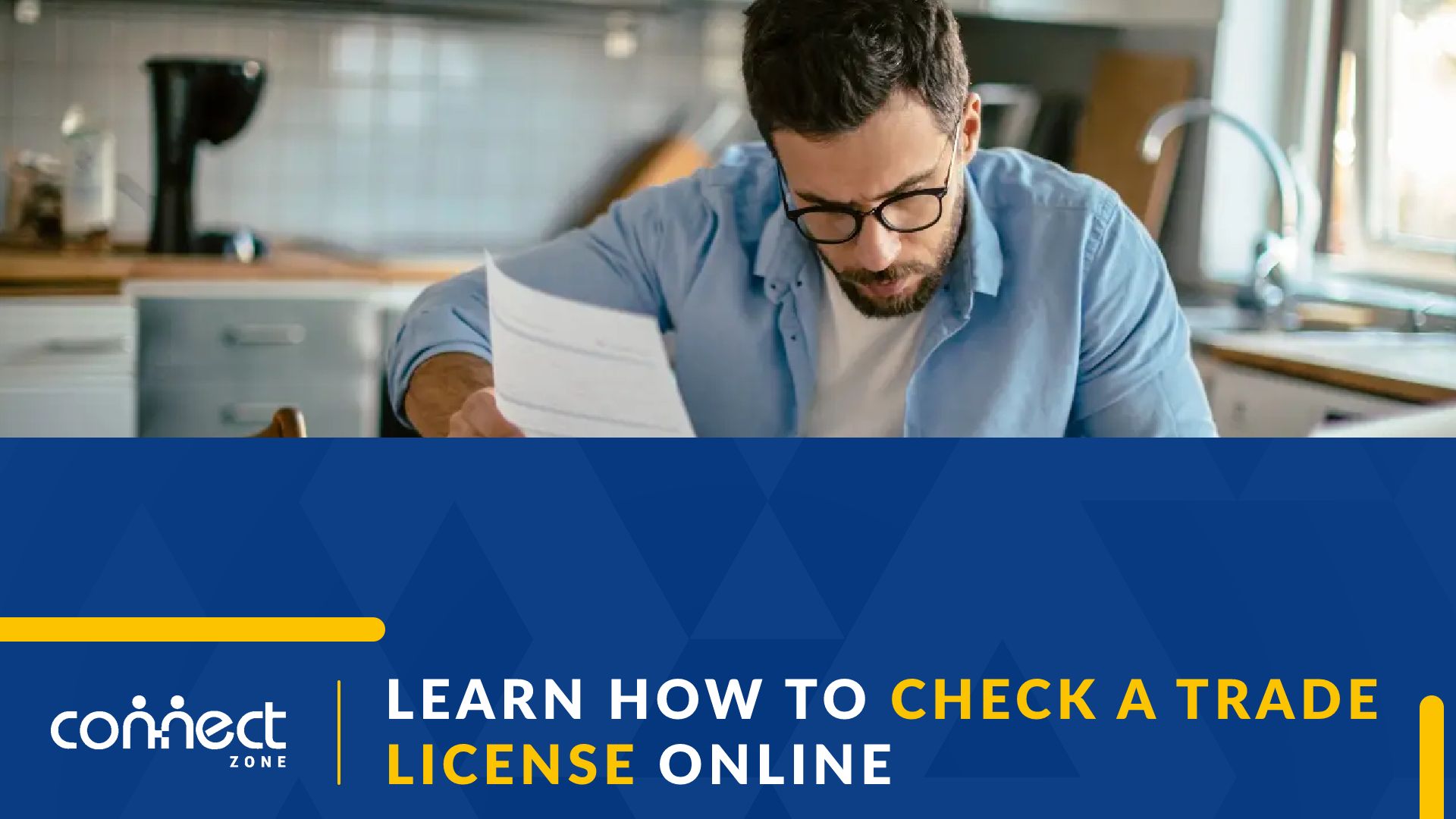 Doing business in the UAE can be a very life-changing process. This region offers hundreds of economic opportunities to national and foreign entrepreneurs, both on the Mainland and in the Free Zones. However, when doing business, it is always advisable to be wary of scams. For this reason, in the following lines, we will talk about how to check a trade license online.
In this article, you will find information about what a trade license is, what documents you must submit to acquire one, how to ensure that a company in the UAE is legitimate, how to check a trade license online, and how can we help you in this process.
What is a Trade License?
What types of Trade Licenses can you find in the UAE?
How can you get a Trade License?
Trade license renewal process
Requirements you must submit to obtain the license
How to check a Trade License online?
How can Connect Zone help you check a Trade License online?

1. What is a Trade License?
This license is a document issued by the Department of Economic Development (DED) of the Emirate where you decide to establish your company. This document allows companies to legally operate in the UAE. The Trade License in Dubai is valid for different activities, for example, import and export of services and products, and any other activity related to trade.
Companies that are established in a free zone can acquire one of these licenses. At the same time, professionals related to the industrial sector can also acquire one.
Knowing how to check a trade license online can help you and your company to avoid making unwanted alliances.
2. What types of Trade Licenses can you find in the UAE?
Not all licenses in the United Arab Emirates are the same, there are five main licenses and each one dedicates to a different productive sector.
The five main licenses are the following:
2.1 Professional license
This license is for those individuals who offer a professional service based on some mental or physical ability that allows them to generate profits. An important point of the professional license is that it allows entrepreneurs to maintain 100% ownership of their company.
2.2 Industrial license
The industrial license is an official document addressed to those companies whose activities are related to the collection, production, and transformation of natural resources into materials suitable for industrial use or into finished products.
An industrial company has global access to its customers and requires a large amount of manpower and resources to operate in the country.
2.3 Commercial license
This document is issued by the official authorities of the United Arab Emirates and is aimed at those organizations or companies that carry out activities based on the trade of services and goods. Some companies, for example, retail firms, business enterprises, real estate companies, transport companies, among others, must apply for this license.
Another key point of the commercial license is that, by having it, your company will be able to export and import products inside or outside the country (this will depend on the area where your company is established).
2.4 General license
The general license is perfect for startups that want to do multiple business activities with a single license. Individuals who hold this license can take advantage of business opportunities in the following sectors: Beverages, medical supplies, frozen foods, among others.
2.5 Tourism license
The Tourism trade license is an official document required by those companies whose commercial activity is based on the travel, hospitality, and tourism sector.
Every serious and respectable company must acquire one of these licenses in order to work legally and avoid any conflict with the authorities. Learning how to check a trade license online will prevent scams and you will be able to differentiate which companies you can trust and which you cannot.
3. How can you get a Trade License?
To obtain a trade license you need to follow these steps:
3.1 Business name
The first step in getting this license is to select an appropriate name for your company. The business name must adhere to the moral values ​​of the UAE, it cannot refer to any religion or political entity, and it cannot be registered by another organization or company.
3.2 Legal structure
To continue with the application for the trade license, you must choose the legal structure of your company. This structure will define how you must run your business and who is responsible for the company.
3.3 Business activities
When the name of your company and the legal structure is ready, you must determine the business activity you plan to carry out. You must make sure to mark all activities on the license and it must be remembered that each license allows a maximum of ten activities.
3.4 Complete the form
The next step is to fill out the application form, once ready, you must submit it to the Department of Economic Development of the respective Emirate to receive initial approval.
3.5 Additional approvals
Some productive activities require initial approval from other government entities. It is advisable that you do your research before completing the process of applying for your license. Otherwise, the authorities may reject your license.
3.6 Gather required documents
In addition to your application form, you need to gather certain documents to deliver them to the authorities. You must ensure that all necessary signatures are present to avoid any delay or misunderstanding in the process.
3.7 Business location
There are different options of places where you can establish your company if you choose to opt for this license. For example, if you decide to settle in Dubai Mainland, you will necessarily need office space.
Once you have the office space, you will need to create a tenancy contract. The entity in charge of attesting this contract is Ejari and you must submit it to the DED with the rest of the documents.
3.8 Submit your application
With all the documents in hand, the chosen location, and the necessary approvals, you are more than ready to submit your trade license application and receive your license.
3.9 Pay the fee
It must be remembered that applying for a license is not free. You must pay the issuance fee and the license fee itself in order to receive it.
4. Trade License renewal process
Generally, trade licenses have a validity period. Once completed, you must renew your license every year to continue working legally in the United Arab Emirates. Some aspects that you should know to renew your license are the following:
4.1 Approvals
To renew your license, you need to obtain the correct approvals. These approvals will depend on the commercial activity carried out by your company. For example, transport companies need approval from Dubai's Road and Transport Authority to renew their licenses.
To speed up the process, it is advisable that you obtain these approvals before beginning the rest of the renewal process.
4.2 Documentation
In addition to the written approval of certain government entities, every company must gather documents such as the following:
Attested Ejari
A tenancy contract
Approval and authorization process
The complete renewal form
Photograph of all business partners
The payment number of renewal fees
Every company is required to submit these documents to the DED in order to acquire the renewal.
4.3 Tenancy contract
Before starting the renewal process, you should review your tenancy contract. This cannot have a validity period less than three months from the issuance date, to apply for the renewal of your license.
Learning how to renew and how to check a trade license online will save you time and effort in the long run.
5. Requirements you must submit to obtain the license
Part of the process of acquiring a trade license requires the delivery of certain documents. Each part of this process must be done in an orderly manner to avoid delays and misunderstandings.
Firstly, you will need to fill out the trade license application and all managers will need to sign the document. Secondly, you will need to create a Memorandum of Association (this must be done with the help of a legal representative). Thirdly, be sure to attach the approval of your business name. The DED will send you this approval before accepting the chosen business name.
Then, all shareholders of the company must submit a copy of their passports. Remember that learning how to check an Abu Dhabi trade license online will save you from the submission of documents to illegitimate companies.
6. How to check a Trade License online?
Previously, we have talked about trade licenses and how to get them. However, it is also important to know how to differentiate a legitimate company from possible fraud. Whether you are an experienced entrepreneur or a new one, it is only logical that one of your concerns is to hire reliable and legal companies. For this reason, it is very important to learn how to check a trade license online.
First of all, every business owner can perform their own company verification. By having basic information such as phone number and address, the entrepreneur can:
Give a call to the company.
Visit the office by himself.
If you ever wondered how to check a trade license online, this is definitely the simplest method. Other ways to verify if a business is properly registered in the UAE are the following:
Every company in the country is required to have a trade license to operate legally in the country. You can ask them to show you a copy of the license or you can check it online with the Department of Economic Development.
Remember that licenses are not confidential documents, they are documents that must be publicly displayed in a store or office. It is one of your rights to ask for this document or to have access to it.
Please know that most illegitimate companies will give you an invalid registration number as proof. This can be easily verified. And in this way, knowing how to check a Dubai Trade License will keep you from entering into an unprofitable and complicated business relationship.
There are certain methods that you can use separately or together to decipher if a company exists or not. Some methods you can use are the following:
6.1 Business License Verification
As shown above, you can request a copy of their business license and check directly on the government platforms if the license is registered or not. If you intend to create a company in the UAE based on partners, then they should provide the necessary documents.
If you feel any reticence, chances are something is wrong. On the other hand, the information exposed in a Trade license is not confidential, there you will find the following:
Office address
Name of the company
Registration number
License number
Name of manager
Someone who refuses to show you this documentation may mean that their business is illegitimate. Remember that knowing how to check an Abu Dhabi trade license online will prevent you from unnecessary trouble.
6.2 Contact the email
If the company is registered in any Free Zone, you might not be able to verify the license. In this situation, your only other option is to contact the registry by email stating the name of the business and ask if the company is registered in the country and if the license is active (and not canceled).
Another option is to verify the registration directly by visiting the offices in person.
6.3 Certificate of Good Standing
You can ask for a Certificate of Good Standing from the local registration authority. Generally, this certificate indicates that the company has filled reports and fees with the authorities.
This certificate serves as proof that the company exists and is authorized to operate legally in the UAE.
6.4 Social media
Social networks can be very helpful when verifying a business. Seeing that a company has a presence on social media is often a good sign. For example, you can check if they have professional profiles on networks like Facebook or Instagram.
Also, you can find out if their staff or managers have profiles on platforms like LinkedIn.
6.5 Google the company
A good idea is to search for information on Google, such as online forums, testimonials, etc. If the company in question has been involved in any illegal activity or any scams, there is a good chance that you will find this information on the internet.
Lastly, you can check on the free zone portals and the governmental portals to ensure that you are working with serious and responsible people.
7. How can Connect Zone help you check a Trade License online?
With more than 20 years of experience and hundreds of happy clients, our agency is the ideal service agency to accompany you in the process of setting up your company or acquiring your license.
At Connect Zone, we will provide you with all the documentation you need to prove that you are a legitimate and trustworthy company, and we will take care of guiding you in each procedure you carry out.
For example, applying for a visa, opening a bank account, and even obtaining your Emirates ID.

Are you interested in learning more about our services? You can reach us at +97143316688 or you can send us an email to contact@connectzone.ae where one of our representatives will assist you gladly.
Additionally, if you would like to apply for a job in the UAE, you can visit thetalentpoint.com or send your resume to contact@thetalentpoint.com. Remember that your security is a priority for us, your information will not be shared or stored.