List of top IFZA services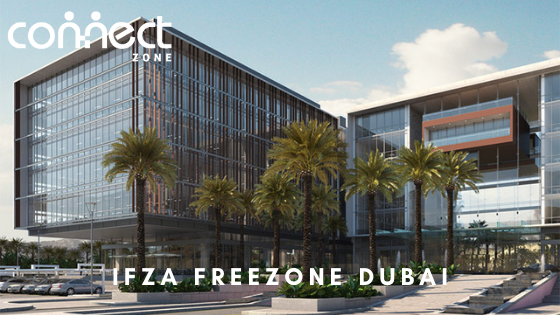 The International Free Zone Authority Free Zone (IFZA) in Dubai has become a thriving investment hub in the UAE market. However, to start a Company in this area, you'll probably require some permits, licenses and equipment first. Therefore, Dubai authorities, along with IFZA, created a huge range of options, also known as IFZA services, to help entrepreneurs in a business setup.
In this article, you will learn everything about IFZA's top services and how to use the different licensing, visa, facilities and packages they offer so you can establish a successful organization in IFZA Free Zone. In addition, you will also find out more about:
What is International Free Zone Authority (IFZA)?
Why investors are choosing IFZA Free Zone for business setup?
What are IFZA services?
Top IFZA services for shareholders and employees
Top benefits of IFZA services for Company formation in Dubai
How can we help you access IFZA services?

1. What is International Free Zone Authority (IFZA) Free Zone in Dubai?
Originally founded in Fujairah, the International Free Zone Authority (IFZA) is located in the heart of Dubai to allow shareholders and employees easier access to this city's booming market. From the beginning, IFZA's main goal has been to provide a tax-friendly, cost-effective ecosystem for small and large entrepreneurs alike.
Thanks to its high rate of profitability, IFZA has emerged as an appealing Free Zone for business setup. Therefore, it offers entrepreneurs and business owners a huge range of platforms and high-end infrastructure to work within the UAE market.
Access here to a full guide of trade-license-renewal in Dubai
Although it's one of the youngest Free Zones of Dubai, IFZA has positioned itself as one of the best financial, marketing and counseling service holders in Dubai by helping local and foreign entrepreneurs to start a business within the IFZA free zone.
To sum up, IFZA welcomes local and foreign business owners with open arms and, most importantly, gives them the opportunity to expand and enter smoothly into one of the most competitive and prolific markets in the world.
2. Why investors are choosing IFZA Free Zone for business setup?
Certainly, IFZA has gained popularity among visionary investors and entrepreneurs. However, strategic location for Company formation, tech hubs, transitioning employees and mature companies is not the only reason investors are choosing to set up businesses here. It is also one of the cheapest Free Zones in Dubai.
Likewise, business owners choose to set up their businesses in IFZA Free Zone for other compelling factors, which are:
Possibility to get a 3 years residency visa for shareholders and employees in the UAE
Company formation service packages
Financial growth opportunities
Dealings with local and foreign investors
Opportunities for access to training programs
A focused mindset on environmental preservation and sustainability
Easy access to IFZA services
In addition, establishing your business in IFZA allows you to combine professional and commercial activities in a hassle-free manner. So, whether you are a visionary digital entrepreneur or the CEO of a multinational trading enterprise, the opportunities IFZA Free Zone offers you are enormous.
3. What are IFZA services?
In order to attract more investors, IFZA Free Zone authorities created IFZA services. It is a long list of services to support and guide start-ups, entrepreneurs and organizations in their Company formation and setting up processes in Dubai's digital and physical business world.
Learn how you can start a business in Dubai in just a few steps
These services are specially designed to enable business owners to establish themselves smoothly in the UAE. Most importantly, IFZA's services, facilities, licenses, and packages guarantee local and foreign investors a fast, secure, short, and above all, efficient entry into the UAE market.
4. Top IFZA services for shareholders and employees
From comfortable workspace and warehousing facilities with high-level equipment to full counseling, processing, and issuance of Company formation packages, IFZA services cover a long list of possibilities so investors can streamline the process of setting up a company in Dubai.
Discover 5 simple steps to open a general trading Company in Dubai
Amongst the main IFZA services are:
Different types of business licenses
Visa processing and issuance for entrepreneur and start-up owners
Access to business facilities
Ability to access workspaces and storage spaces
Business Set-Up affordable packages
In addition, IFZA services are not just limited to granting licenses, visas, and affordable facilities. IFZA Free Zone is deeply concerned about the growth of the companies that establish themselves in Dubai. For this reason, it also offers training and educational programs for entrepreneurs to improve their position in the Emirati market further.
4.1 Type of Licenses
Like every Free Zone in the UAE, you will need a license to operate freely in the IFZA Free Zone. This may vary according to the services or goods your company works with. However, one of the advantages IFZA licenses have is the possibility to perform 3 to 7 business activities using just one license.
On the other hand, there are around 1,000 activities business owners can perform with a single license so, it does not matter if you own a consulting and service provider organization, small e-commerce or a multinational goods trading company, there is a specific type of license so you can work in IFZA Free Zone.
Therefore, the different types of licenses you can request are:
·         Consulting License:
This type of license is highly recommended for companies that offer consulting services in any professional field. The most common professions that usually apply to it are education, marketing, bookkeeping, and legal services.
·         General trading license:
It allows you to trade, import, export, selling and store goods freely and flexibly within various jurisdictions of the UAE. It is recommended to take out a general trading license to perform trading activities under a single license, especially if you are offering several products. Also, if you own an e-commerce business, you should apply for this license because IFZA Free Zone does not consider digital commerce as a different activity.
Learn more about professional license in Dubai by clicking here
·         Holding license:
Allows Company owners that hold assets or have shares in other companies to control their assets. For instance, businesses that work with real estate, stocks, trademarks, and patents should apply for it.
·         IFZA Service license:
It is made for conducting service-oriented business. To clarify, experienced professionals with a degree or proven skills in a specific area can offer their services. For example, a marketing freelancer.
·         Trading license:
Contrary to the general license, the trading license allows importing, exporting, distributing and storing only one asset. For instance, a single license to export furniture.
4.2 Visa Services
If you want to establish a physical space for your business, one of the IFZA services offers is the chance to opt for a lifetime investor visa to set up a physical space for your business.  Therefore, IFZA services provide investors a chance to get 1 free lifetime investor visa or a VIP stamping of a visa for entrepreneurs.
Here you can learn more about why document clearing is so important to business setup in Dubai
The cost is around AED 3,750, whether you are a business owner or an employee. On the other hand, IFZA always renews its promotions and prices to help investors who want to start their businesses. Another perk of IFZA visa services is the possibility to access a residence visa for investors and transition employees that establish themselves in IFZA free zone.
4.3 Business facilities
One of the most common problems that small business owners face during Company formation is owning physical space to establish their business. As a result, IFZA services include multiple spaces, physical and digital, to optimize work, improve productivity and store goods safely.
Among the different types of spaces/warehouses IFZA services offer are:
Virtual office: This is a package that includes a wide range of services for digital work without worrying about a physical space. For example, an email address, phone number, call handling and more.
SmartDesk/Flexi Desk: This includes a shared workspace with all the commodities such as AC, Wi-Fi, furniture and more. Most of them are located in the Silicon Oasis area, Dubai. Consequently, a huge benefit is that your company will have a business address.
Click here you can learn more of how Company ownership in the UAE works
Warehouse: In case a business owner needs a storage place for their goods, IFZA services offer multiple warehousing spaces for your raw or manufactured assets.
Full Office: Finally, IFZA offers medium and large-companies an opportunity to transfer their assets and employees to a physical space perfectly adapted to the company's needs.
In addition, there are other facilities you can choose from such as residential apartments, hotels, and retail outlet options. It will all depend on the needs you have.
4.4 Packages
Finally, among IFZA's greatest advantages are the company formation packages within the IFZA Free Zone.  As a result, your company's training process will become easier and simpler.
The packages will not only help you to successfully establish your company but also help you to access special training to take your organization down the right path and create a thriving business in the market.
Discover more about how to get a UAE residence visa here
Some of the packages include special services that go from zero visa companies to multiple visa options.
5. Top benefits of IFZA services for Company formation in Dubai
IFZA services appear as an option to help small and large business owners and entrepreneurs to set up a business successfully in Dubai and thrive above all. To know some of the perks IFZA services have to offer, here's a short list:
Quick company registration
No extra requirements for physical facilities
More than 1,000 business activities
Competitive prices
100% foreign ownership
No foreign currency restrictions
Possibility of goods, assets, and Company assets repatriation
Access to visa and non-visa packages
Document attestation
License upgrade service
Amendments service
Possibility of working with national and foreign investors
Low corporate and income taxes rate
No need for the shareholder physical presence to business setup
Immigration counseling services
Access to affordable workspaces and warehousing facilities
No employee guarantee deposit required
Little document requirement
6. How can we help you access IFZA services?
Now you are more aware of all the benefits of the IFZA free zone and you know all the services IFZA has to offer, it's time to step up your game and start your own Company in Dubai entrepreneurial market.
Therefore, you must find a helping hand to access successfully all the multiple IFZA services available. Connect Zone is prepared to assist you during the entire Company formation process.
With more than 20 years of experience, our main goal is to aid you in the business setup process and ensure every part of it runs smoothly. On the other hand, we also offer payroll, HR management systems, and WPS services at an affordable cost. In addition, we offer the best payroll software possible for your business.
Likewise, in case you require a local partner in the IFZA free zone, we offer a local partner service to establish your business and work with local investors.
Would you like to contact Connect Zone to know more about IFZA services? In case you have any questions, call us on +971 43 316 688. Moreover, you can email us at contact@connectzone.ae, and you will talk to one of our representatives who will answer your questions.
In addition, if you would like to submit your CV or resume, please enter to thetalentpoint.com to receive more info. There's no need to worry, your information won't be shared or stored.