Trade License Renewal in Dubai: Step-by-Step Guide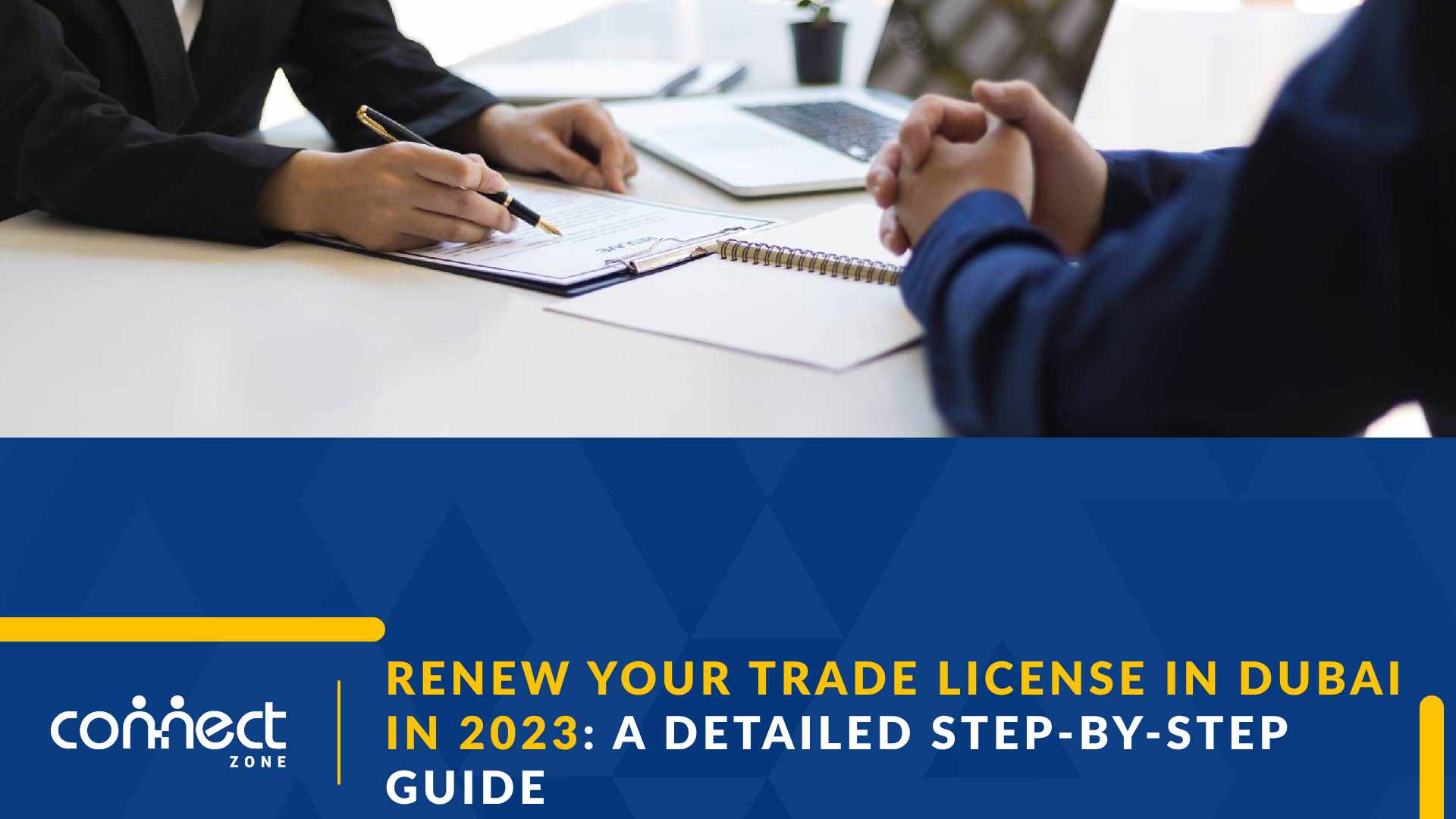 Trade license renewal Dubai is one of the most important steps for your success in trading in Dubai. Likewise, this license will have to be renewed annually before its validity expires or you will face sanctions. Additionally, renewal is a simple process through the DED or Department of Economic Development which issues and renews these licenses.
In this article, you will learn how to renew this document, which is essential for your company. In addition, you will have the opportunity to learn other details that you need to know about the renewal of this business document in Dubai.
Renew Your Trade License in Dubai in 2023: A Detailed Step-by-Step Guide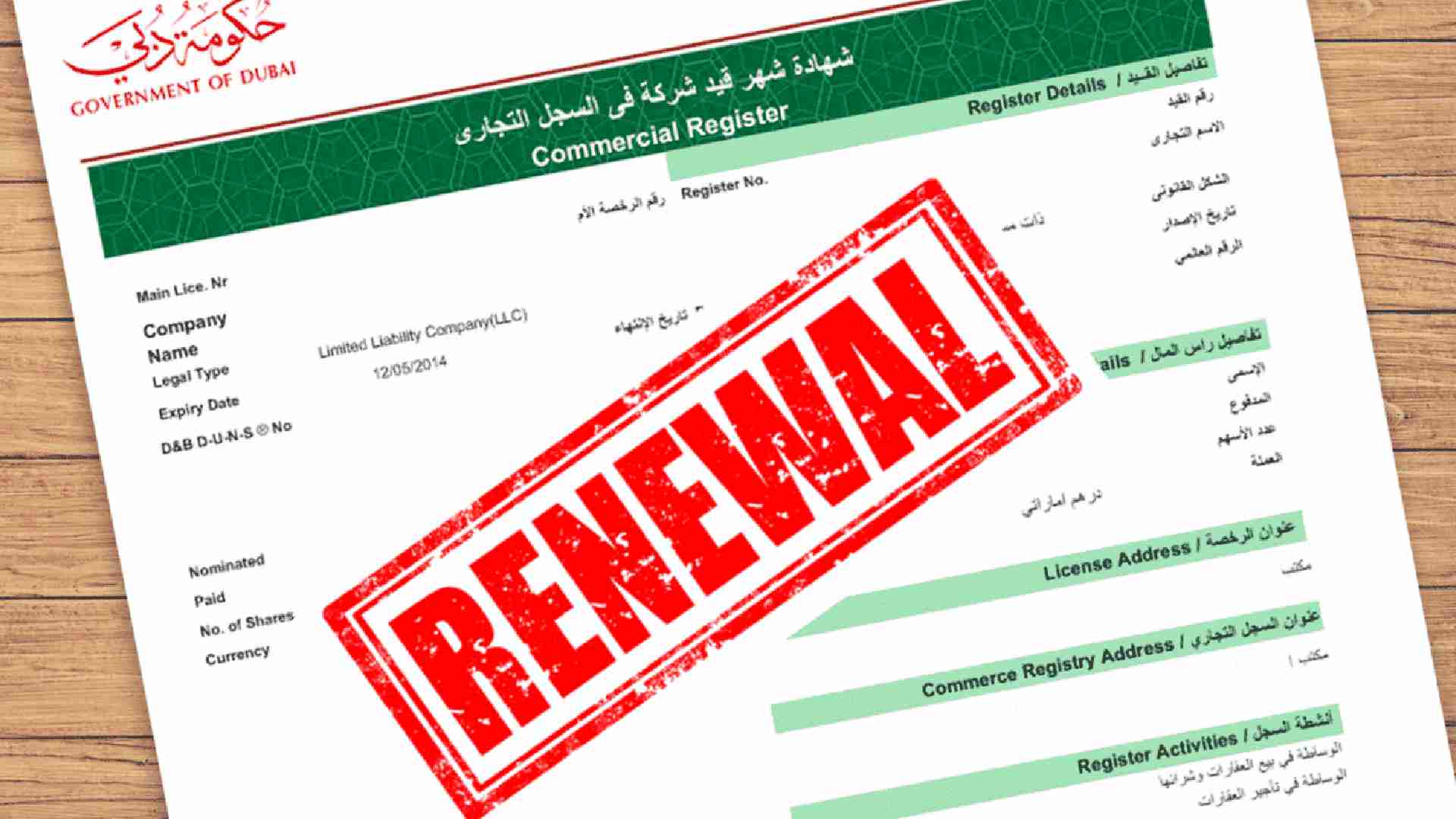 One obligation you have as a business owner in the United Arab Emirates is the trade license renewal Dubai. In this case, if you do not perform this procedure on time, it may cause problems for your business activities. In addition, you must renew the said license in the time allowed by the authorities to comply with the regulations.
However, if you have all the necessary documents in order, the process is very simple and fast by standards. Therefore, we help you with how to do the Dubai trade license renewal online.
Review Your Rental Agreement
You must first make sure that your lease is valid for at least 1 month before proceeding. Likewise, you must certify your rental contract in Ejari, which we will explain later. Otherwise, you will not be able to continue with the process of renewing your license, so we recommend having this record at all times.
Apply to the DED with Your Documents
The next step is to collect all the documents and submit them to the Department of Economic Development (DED). Therefore, this entity will be in charge of checking everything necessary and will then let you know the result in a few days.
Get the payment receipt
After the DED has verified your application to trade license renewal Dubai, they will send you a receipt to pay the corresponding renewal fee.
Make the payment
Now, pay the fee and complete the registration process for your renewal because DED will only issue the renewed license once you pay the fee.
Mobile App Option
Alternatively, you can renew your Dubai trade license renewal online through the mobile application. With this application, you can renew your license from the comfort of your home or wherever you are. Likewise, you will only need to download the application and follow the steps to renew and thus continue with your commercial operations.
Consequences of Failure to renew your business license in Dubai on time
The license from the Dubai Economic Department license will be what will allow you to operate your company in the Emirates. Likewise, renewing this license promptly could have negative consequences such as entering the country of blacklist. Also, always keep both the business license and the lease agreement in mind.
Consequently, failure to renew may cause legal problems such as the following:
Sanctions
In Dubai, the DED is the government entity with legal rights to issue financial fines to industries that do not comply with business license renewal. Also, trade license renewal Dubai may be AED 5,000 for businesses operating without the license.
Likewise, merchants who continue to operate with an expired business license will pay a fine of AED 250 per month.
Companies on blacklists
As we have mentioned, without the license or with an expiring license, you will not be able to continue operating your business. If you do so, you will be included in the nation's blacklist, and as a consequence, the operation of the company will permanently cease.
An industrial ban
In Dubai, a business with an invalid license will result in possible closure at any time by the DED. As a result, your company will most likely no longer be able to operate in Dubai and will hardly be able to reestablish itself.
State of grace for renewal of trade license renewal Dubai
In Dubai, the grace period for mainland industries is 30 days to renew their business license. Likewise, if they do not do so within this time, they could pay from AED 250 to higher amounts. Therefore, renew your license before the grace period expires to avoid paying fines.
Required Documents for Dubai DED Trade License Renewal
The Dubai Economic Department license has a validity period of 1 year and you will have to renew it annually. In addition, you will have to apply 30 days in advance of losing its validity. Otherwise, DED will impose a late payment fee in addition to external fines of AED 200 per month.
However, in the Emirates, there are approximately 50 or more free zones and all of them will require unique renewal requirements. Next, you can observe the requirements according to the free zone where you request the renewal:
The Ejari of record
If you are required to trade license renewal Dubai in Ejari, you will have to apply for a registration certificate. Likewise, the lease certificate has to be certified by Ejari; otherwise, you will have to pay a fine.
Ways to register online at Ejari
Registration through the web platform
This option is the least complicated and at the same time the fastest by simply accessing the Dubai Land Department web portal. Thus, you can submit your application through this website since it is the Ejari system for the application.
Registration with mobile applications
In addition to the website mentioned above, another viable alternative is to register using an application. Additionally, these applications will allow you to upload your documents and register the lease agreement. Hence, you have at your disposal two applications available for this process Dubai REST or Dubai Now
Additionally, to register with the application, follow the following steps:
Download the application on your electronic device
Go to SERVICES and select where it says RERA
Choose, START EJARI REGISTRATION
Fill out the form with your details and upload all required documents
Select the SEND option
The owner or landlord will validate the registration of his tenant through the application
After passing approval, make a registration payment through the app
Lastly, you will instantly receive the Ejari contract in the app
Finally, by approving your documents in the application, usually in 2 business days you will receive the Ejari certificate. However, if you were to use this method for registration, make sure your loved one is registered in the Ejari application.
This contract will include a unique Ejari identification number with which you can register in the DEWA account online. After registration, you will get a unique barcode and Ejari number. Now, you will have to present an Ejari certificate to make the following requests as it is considered as the certification of rental contract in Ejari:
Commercial licenses
DEWA
Residence visas.
Telephone and Internet service.
Additionally, you can go to the official website and download and print it if you wish.
A valid lease contract
Another important factor for trade license renewal Dubai will be having a lease contract with a validity of at least 1 month. Likewise, the contract must be certified by Ejari, and if it is not valid enough, the request to renew your commercial license may be denied.
Photocopy of your old business license
For the renewal request, you must include within the documentation submitted, a copy of the previous commercial license. Additionally, you must include the mandatory permits you have obtained for your company's commercial activities in the Emirates.
The BR/1 Form
To begin with the trade license renewal Dubai process, you must complete and submit the form BR/1. However, it must be signed by all the partners and then sent to the DED for approval. Additionally, attach the required documents to the form before submitting it to the DED.
Copy of the passports of each business partner
Present a copy of each of your partners' passports to prove that they are involved in your company. However, do not have any, you will only present yours. On the other hand, we inform you that there are 2 ways to request the renewal, which will be online or offline.
therefore, you can choose the one that suits you best since they are all carried out by authorized bodies in Dubai.
Additional requirements for renewal of trade license renewal Dubai in Free Zones
If your company is in a free zone in Dubai, you will have to submit other requirements to renew your business license. Thus, these documents may include the following:
An NOC or no objection certification from the sponsor to renew the business license
A certificate of Continuity of Existence that proves that your company is complying with the regulations and is active. Hence, demonstrate with this certificate that your business is eligible to renew the business license.
If your business is a branch of a land-based company in the Emirates you may need to present the current business license of the parent company. Likewise, with this document, the renewal can proceed.
What is the price of renewing a trade license in Dubai?
The trade license renewal fee Dubai will depend on some factors such as economic zone and jurisdiction. However, the general standard range for renewing the business license is between AED 8000 and AED15000. However, keep in mind that these figures are an estimate that may vary depending on specific requirements and the type of commercial activity.
Consequently, if you want a detailed renovation cost quote tailored to your particular requirements, consult professionals. This way, you will get guidance and assistance tailored to your situation and your particular business requirements. In this particular, you can be sure that your licensing procedures will be more efficient and precise.
Various types of licenses in Dubai for renewal
There are several types of licenses in Dubai so you should keep in mind that you may need to apply for different licenses depending on your type of business and operations. Below, you will be able to find out the types of licenses available, which will be requested for the renewal process:
Professional Licenses. It is the license that will allow you to practice a profession such as law, medicine, or any related service.
Commercial licenses. It is the most common of all and is aimed at companies that wish to operate in the country with imported or local products.
Industrial Licenses. This license is what allows the industrial activities of any establishment such as mining or manufacturing industries.
Reasons to keep your commercial license updated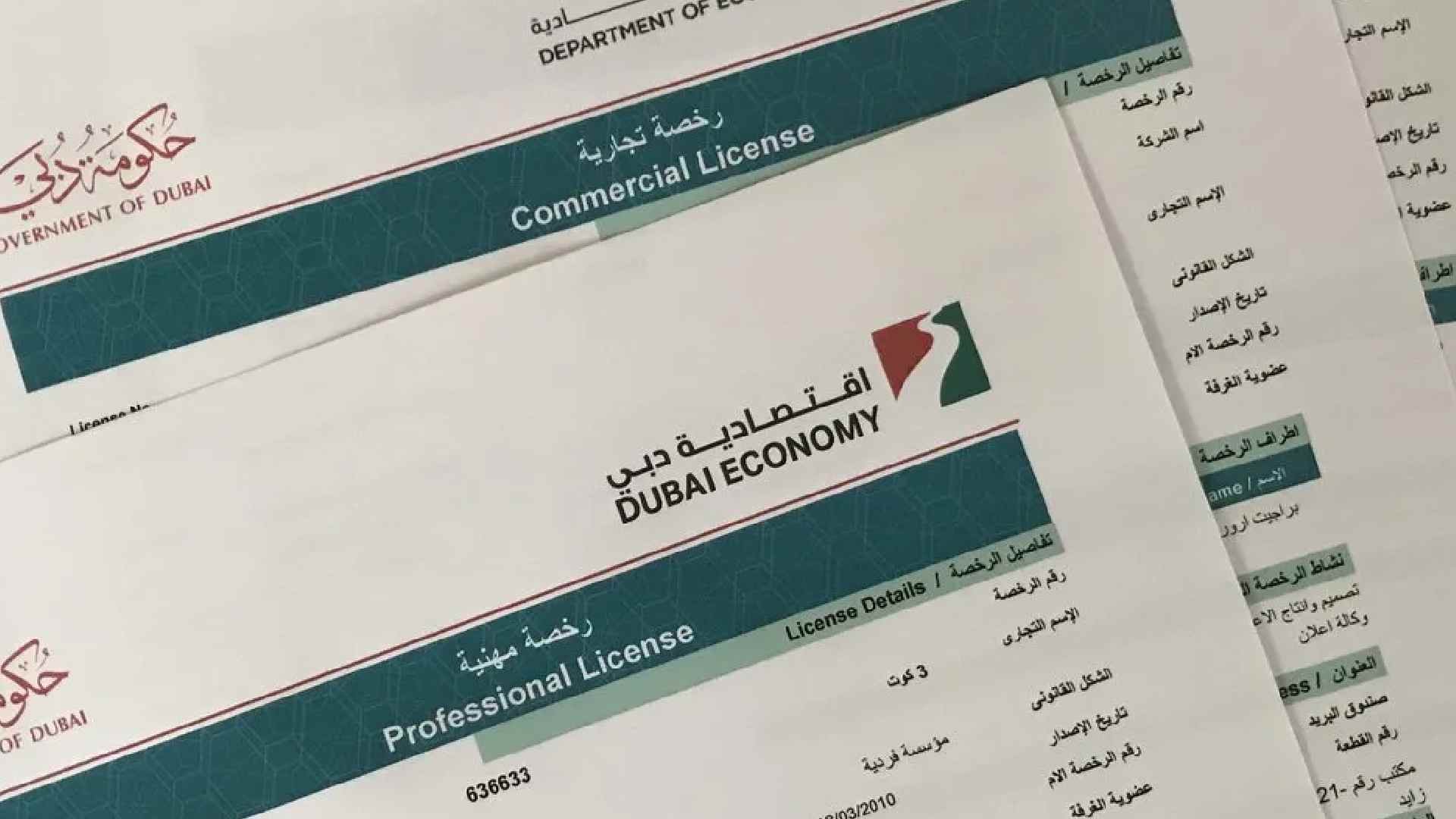 Below you will see in detail the reasons why you cannot forget to renew the commercial license:
Guarantee compliance with the law. If you do not keep it updated you may face legal or financial penalties ranging from AED 5,000 to AED 50,000. Additionally, the DED may ask you to pay an additional fine of AED 250 for late payment.
Maintain a good business reputation. A current business license will be a good reference for your company, which will help you have clients who trust you. Otherwise, your reputation will be negative and customers will have doubts regarding the integrity of your business operations.
Keep banking fluid. In Dubai, financial institutions require companies to have up-to-date business licenses to allow them to open, manage, or close their accounts.
Meet visa requirements. To apply for an employee visa or update yours, you will need to have a current business license.
Stay up to date with local regulations. This is important to be able to comply with any new requirements and thus keep your company active.
Avoid hidden cancellations. This means that when you do not renew the business license, the DED will cancel the business license without warning or notice. As a result, you will have to pay high cancellation fees to apply for your business license again.
In conclusion, trade license renewal Dubai is important to maintain not only your commercial activity but also the trust of your customers. In addition, you will be able to stay up to date with legal obligations and avoid paying fees for fines. Thus, stay up to date with your licenses and now with technology, you can do it more easily. If you need additional help, contact us and our professionals will guide you or answer any concerns regarding this and other related topics.