What are the advantages of hiring PRO services in Sharjah and the UAE?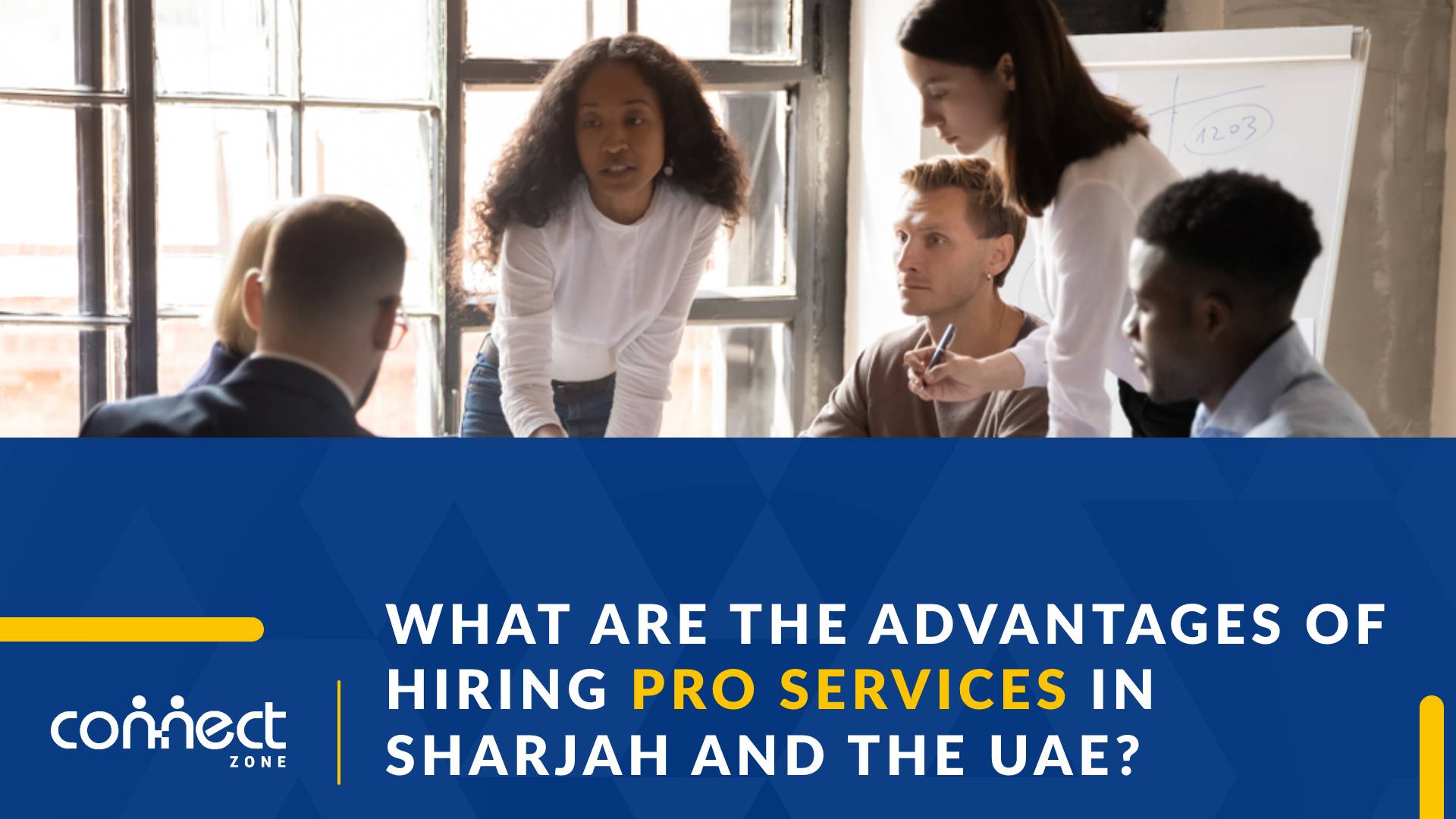 The United Arab Emirates has become one of the most investor-friendly places in the world. Every year hundreds of entrepreneurs make the decision to start their personal and professional life in this region. To do so, it is necessary to comply with certain processes and the delivery of certain documents. For this reason, we will talk about PRO services in Sharjah and its advantages.
In this article, you will find information about what a PRO service is, what are the services they offer, and more. We will take a look at:
What are PRO services?
Main aspects about PRO services in Sharjah
When are public relations officers necessary in your company?
What other services do they provide?
Advantages of hiring a PRO in Sharjah
How to choose the best public relations officer?
Why choose PRO services?
How can we help you find the best PRO services in Sharjah?

1. What are PRO services?
Every company in the UAE needs the services of a Government Liaison Officer, also known as a Public Relations Officer. PRO services refer to all activities related to the processing of government documents. For example, visa applications, company trade licenses, approvals, and labor cards.
Anyone who is new to this nation and who does not know the necessary steps to start the formation of a company can benefit from PRO services in Sharjah.
This professional will be in charge of assisting entrepreneurs with the documentation processes in the corresponding Department of Economic Development, in the Chamber of Commerce and Industry, and also the Visa and Immigration Department.
1.1 Types of PRO services in the UAE
Starting a business in the UAE requires going through several steps. The first of these is to comply with legal formalities. Only after completing these formalities the government will grant legal authorization for the company to operate.
Because complying with legal formalities can take a lot of time and effort, the public relations officers will be in charge of making sure that every paperwork and formality is done successfully and on time.
Following, you will find a list of the PRO services available in Dubai and Sharjah:
Applying for labor and immigration cards
Applying for a trade license
Passport and visa clearance
Company and branch set up
Attestation of all legal documents
Registration of trademark
No Objection Certificate
Open a corporate bank account
2. Main aspects about PRO Services in Sharjah
Firstly, Sharjah is the third largest emirate of the UAE. It has been listed as the "Capital of Islamic Culture" and a "Unique and distinguished Tourist Destination". In addition to this, in recent years, it has shown economic growth that has attracted hundreds of entrepreneurs.
Forming a company in Sharjah can be a difficult task due to the lengthy paperwork and the requirements to carry out the process. Consequently, it is normal for entrepreneurs to want to focus on other types of activities and not run through government entities to fill out lengthy paperwork.
This is why every company needs a Public Relations Officer. These professionals will take care of those processes that can be tedious for entrepreneurs. And they will do it quickly and efficiently.
Some of these processes are the following: visa application, business licenses, clearing of documents, labor cards, among others.
Forming a company in Sharjah requires following certain legal steps. These steps must be in accordance with the specifications of the respective Department of Economic Development (DED), the Sharjah Immigration, the Ministry of labor, and also other public departments.
Although the procedure of forming a company in Sharjah is usually quite straightforward, it can be quite time-consuming. Before this, the Public Relations Officers will ensure that entrepreneurs do not spend unnecessary time in a process of which they have little knowledge.
Basically, these professionals will be your bridge of communication with government entities and will be in charge of carrying out the paperwork to the letter.
2.1 The job of a professional PRO service provider
If you decide to form a company in the Emirates, the first thing you will need is a trade license or company license. This license will allow you to carry out commercial activities legally in the nation.
The application process for this license may seem difficult, especially if you do not know the laws of the UAE. This is when the presence of a public relations officer becomes important.
These experts will carry out the entire application procedure for your license, they will submit the required documents and will ensure that you have the license in your hands as soon as possible.
3. When are public relations officers necessary in your company?
It is a common belief that public relations officers focus mainly on processes related to visa applications and immigration procedures. However, they cover a large number of activities.
Here is a list of the PRO Services in Dubai and Sharjah:
3.1 Department of Economic Development
Concerning a new license issuance:
Memorandum of Association signing
Initial Approval
Trade Name Reservation
Submission of documents
Concerning established companies:
Change in business activity
Change in trade name
Removal or addition of manager/partner
Any amendment to the license
3.2 Labor
Firstly, to keep an operating company you need a stable workforce. Your business must have a Labor Computer Card to hire employees. Hiring PRO services to carry out the processes of the work permit application and the employee visa will reduce your workload.
Obtaining these types of services will assist you with the following matters:
Employee visa applications
Processing of employees' Emirates IDs
Typing of medical and Emirates ID Renewal, Amendment and/or cancellation of employment labor contract
Issuing and renewing work permits
Labor inspection of your office location
Completion of employees' medical tests and biometrics collection
Employee visa quota application and approval
Labor inspection of your office location
Employees' visa stamping
3.3 Immigration
In addition to the options shown above, PRO services in Sharjah will help you with the following:
Processing of your Emirates ID
Visa application
Application for Company Establishment Card
Typing of medical and Emirates ID applications
Renewal of Emirates ID
Visa stamping on your passport
Modifications to establishment card
Registration in the Emiratisation system of employers
Issuance of e-signature
4. What other services do they provide?
Previously, the role of PRO services in the formation of companies in the UAE has been discussed. However, the work of these professionals covers other sectors that make your life in the Emirates easier.
After you finish the initial process of forming your company, your company should grow and build its reputation in the country. This will require the hiring of personnel, cancellation, renewal, and any other administrative procedure.
If you are interested in forming a lasting company, here is a list of PRO services in Dubai and Sharjah:
Attestation of documents, for example, employment contracts, issuance of visas, employment visa quotas, and work permits.
Legal translation
Government approvals
Non-educational certificates
Commercial certificates
Educational certificates
LLC contracts
5. Advantages of hiring a PRO in Sharjah
5.1 Regulate your expenses
In the initial phase of the company formation process, the budget definition can become a bit tricky. At this point, a public relations officer can take on the role of a financial planner and help you make expenses rationally and conveniently.
5.2 A cost-effective approach
One of the biggest advantages of hiring a public relations officer is its cost-effectiveness. Hiring these services reduces the need to hire full-time workers. By choosing a specialized PRO agency, such as our agency, companies can guarantee these types of services when they need them.
5.3 Transparent transactions
Hiring a trustworthy PRO service means full transparency when performing various legal formalities. These agencies will be in charge of presenting each receipt and bill related to the services performed. In this way, the transparency and legality of the transactions are maintained.
5.4 Ease of doing business
Public relations officers facilitate any processes related to government entities of the country. In other words, it will be the communication bridge between your company and the country's authorities.
5.5 Avoid fines and penalties
The laws of the United Arab Emirates are quite strict when it comes to company formation. Not complying with these rules and other legal formalities can lead to unfortunate scenarios, for example, fines or the issuance of financial penalties.
This can delay the day-to-day running of your company and even damage the reputation of your business to a great extent. The laws and regulations of the UAE can change depending on various factors, and if you are a foreign entrepreneur, these changes may take you by surprise.
An experienced public relations officer will be well informed about the changes and amendments that may occur in legal formalities. Also, they will be up to date with the political and economic environment of the country.
Another key point of PRO services is the proactive reminder of the different requirements, associated fees, documentation, and dues dates. In this way, unfavorable scenarios are avoided and the reputation of your company is impeccable.
5.6 Time saving approach
An entrepreneur may decide to hand over all public relations-related documentation to an experienced PRO services provider or hire an in-house staff as a PRO admin. Leaving the job in the hands of an outside agency will solve the time and effort that would be spent running a full-fledged and in-house department.
6. How to choose the best public relations officer?
When it comes to the formation of a company, choosing the ideal PRO services in Sharjah can make a difference. A good provider must have years of experience in the field and must be able to offer a quality product.
Although the UAE is characterized by different tax laws than the rest of the world, PRO agencies must still adhere to international standards.
Note that a public relations agency is the ideal partner to carry out all the procedures you need.
7. Why choose PRO services?
Every company/organization in the UAE needs these services to fulfill certain tasks and obligations to operate legally. Since many of the requirements to start a company are of a legal nature, a public relations officer is an ideal partner to meet the demands.
Some of the requirements may be reaching agreements from Labor and Immigration ministries, registration and licensing, and so on.
All employees in your company need an Emirates Identity, labor contract, residence visas, and mandatory medical insurance. These documents must be delivered by the employer. However, our PRO services in Sharjah will take care of all proper documents of your employees. Ensuring that these processes are carried out correctly and within the established time reduces the risk of sanctions and other legal consequences for your company.
In addition to the legal consequences, not carrying out these processes can have an unfavorable impact on factors outside the business.
8. How can we help you find the best PRO services in Sharjah?
Once you start the process of forming a company, you will find yourself with a series of requirements, documents, and procedures that you have to carry out. In these situations, the presence of a PRO becomes a fundamental pillar to carry out each process successfully.
Here at Connect Zone, we are the agency specialized in company formation with more than twenty years of experience and more than a thousand happy clients. We can assist you with the process of applying for your visa, as well as the license of your choice (be it commercial, industrial, or professional). Also, we will help you maintain good relationships with government entities to receive the corresponding approvals.

Would you like to know more about the services we offer for your business? You can contact us at the following number +97143316688. Also, you can write us an email contact@connectzone.ae where one of our representatives will assist you.
In addition, if you are interested in applying for a job in our company or many others, you can create an account on thetalentpoint.com. You may also send your application to contact@thetalentpoint.com. Remember that your information will always be safe with us, we will not share or store it.